Review: Classic musical is superbly re-visited by talented cast and crew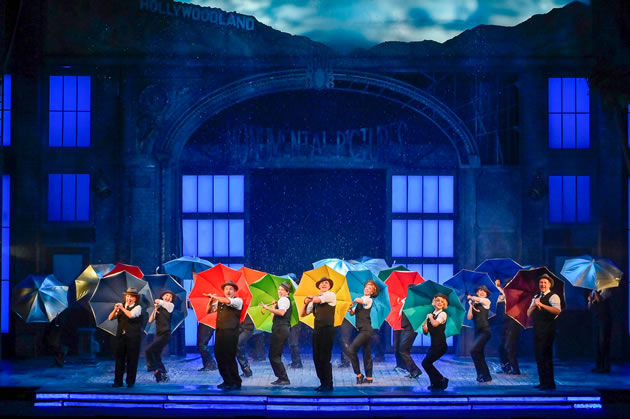 The finale of Singin' In The Rain at New Wimbledon Theatre
While this may not be the week to talk about rain in assocation with Wimbledon, it actually raised beaming smilies in one corner of SW19.
The touring production of the Singin' In The Rain musical is one of the most breathtaking shows I've seen at New Wimbledon Theatre in recent years.
Based on the classic 1952 Hollywood movie, starring Gene Kelly and Debbie Reynolds, it tells the story of the arrival of "talking pictures" and the impact of the new technology on silent film actress Lina Lamont and the rest of her studio.
The 27-strong cast and amazing set, backed up by a nine-piece orchestra, mean you never get a dull moment as the story unfolds.
Dashing Don Lockwood, played by real-life American Sam Lips, is the initial centre of attention as the leading silent screen actor of Hollywood in the roaring '20s. While his leading lady and girlfriend Lina Lamont (Jenny Gayner) has the perfect presence for silent movies, her voice is simply not up to the new "talkies".
So Don and studio musician Cosmo Brown (Ross McLaren) hatch a way for the golden voice of stage chorus girl Kathy Selden (Charlotte Gooch) to replace the screechy sounds of Lina.
On the way there are masses of memorable songs to remember - with 'Moses Supposes' being a real tongue tickler that was very cleverly done - as well as eye-catching costumes and sets to match the Tinseltown era.
My song highlight of the show was 'Make 'em Laugh' when Cosmo put on an acrobatic performance, with impeccable timing and more than a touch of slapstick. As you can imagine, there's some fantastic tap-dancing throughout, and it's great to see Wimbledon's large stage filled with talented performers.
It's no wonder that the 'Singin' In The Rain' song itself comes just before the interval, as there's an awful lot of water to clear up from the stage. You'll see 12,000 litres come down from above as Don taps his way along a Hollywood street after realising he's fallen in love with Kathy.
A special mention must go to TV and stage legend Sandra Dickinson, who has two superb cameo roles as Lina's dialect coach and the red carpet announcer.
It's hard to find any fault in this show, with a second half that will simply uplift you and make you want to walk down the Broadway afterwards twizzling your umbrella and tapping the kerbstones. You might even walk out to find the SW19 rain has stayed away - could that be down to the show's magic?
By Sue Choularton
July 1, 2022