Vive Le Cirque!
---
'Le Cirque de France' comes to Wimbledon!
Santus Circus will perform at Prince George's Playing Field, Bushey Rd (by David Lloyd Centre) RAYNES PARK SW20 8TE from 17th to 27th September with a brilliant 2015 production titled 'The Edge'.

They're the eighth generation of their family to excel in the circus arts. Each year, a new all-human production of their circus takes the road to entertain the people of the south-east. With their own families, the Santus brothers are proud to present their traditional-style show in Britain. It's become a firm favourite with audiences, and will now visit Putney from Wednesday 9th to Sunday 13th September.

Ernest and Roger Santus are members of some of France's most illustrious circus families. Taking on almost every sort of skill and presentation, from hand-balancing and trapeze to unicycling, juggling, and acrobatics, they've performed across Europe and in Asia, and they've won top prizes at the prestigious Monte Carlo Circus Festival.
This is traditional circus with a French flavour. Titled THE EDGE, the 2015 production includes top-quality international artistes from Brazil, Mongolia, Romania, Italy, the Czech Republic, and of course Britain and France.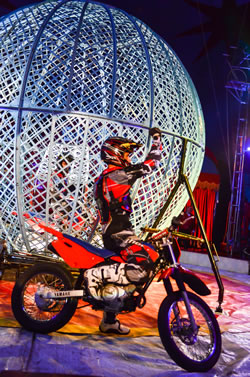 Globe of Death at Santus Circus

Performances run around two hours, and feature high wire, knife-throwing, juggling, trapeze, plate-spinning, rope-walking, whip-cracking, and gentle friendly clowning, as well as the nerve-tingling thrills of the Globe of Death – motorcyclists looping the loop inside a tiny steel sphere. And watch out for the unique Aerial Robot!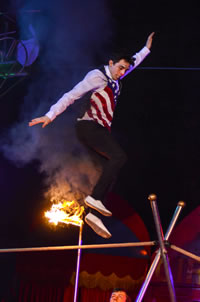 Santus Circus performs under a colourful and comfy Big Top. Prices start from £9 (but look out for Discount Vouchers to get money off!) A Family Ticket for two adults and two children costs just £40. Every Wednesday, all seats are priced at just £7, first-come-first-served.
You can enter our competition for a chance to see this top-quality traditional Big Top show for FREE! Santus Circus have given us TEN FAMILY TICKETS, each for 2 adults and 2 children at any performance (subject to availability). The winners will be the first names chosen at random on Monday 14th September. Just email your name, email address, and a contact phone number to info@neighbournet.com to arrive no later than 11.59 on Sunday 13th September.
TICKETS and INFORMATION: 07843 884787 or 07952 418487 BOOK ON LINE and CHECK SHOW TIMES at www.santuscircus.co.uk

Lucien walks the tight rope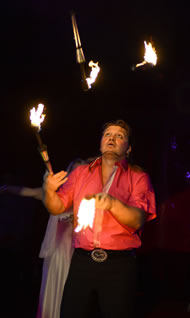 "...this year, the bar has been raised several notches, with a much bigger focus on some truly stunning aerial work and a high degree of attention to thematics and choreography. This is theatre-quality stuff: Olympian-quality athleticism and Royal Ballet-level grace, but slung fifty foot in the air, whirled by a toe or the neck." Anna Morrell, WOW Magazine Kent, 6th April, 2015
Advertisement




Lightning fast juggler Tony
August 28, 2015