Council urged to accept offer for charitable foundation to take over facility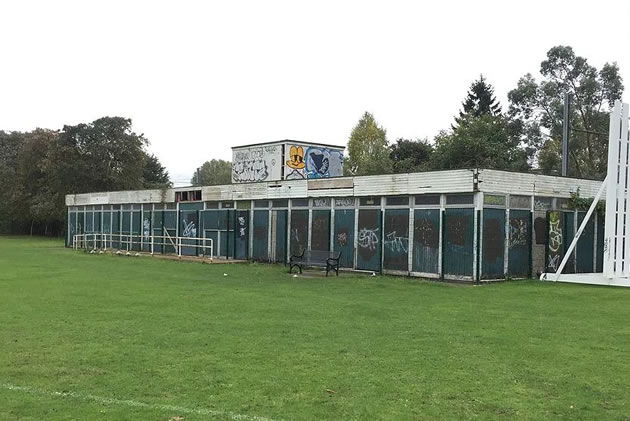 The pavilion at Nursery Road playing fields
The pavilion of a council-maintained South Wimbledon playing field has been abandoned by a local sports team because it is "totally unsafe" and "no longer usable".
Nursery Road Playing Field is used by local football and cricket teams, and pupils of the nearby Harris Academy Wimbledon also use it as their sports ground.
But, although the field is not open to the public it is easy to gain access via holes in the chain-link fence, and the pavilion is the subject of frequent attacks of vandalism.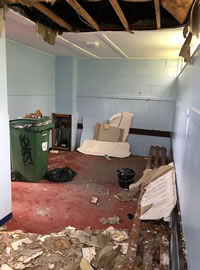 According to the Willmore End Residents Association (WERA), groups of youths climb onto the roof to "socialise". There was a fire next to the pavilion in February and a burst water pipe (see picture on the left) in the same month resulted in damage to the ceiling and kitchen.
The Old Rutlishians Cricket Club, which regularly fields seven weekend teams and provides cricket to more than 400 local youngsters, said this week: "We currently play league fixtures here and consider it our second home ground.
"After years of vandalism it is totally unsafe to use and we're unable to even use the toilets. We're appealing for a long term solution for a great community facility."
The land is actually owned by the charitable Rutlish Foundation and leased to Merton Council until 2059.
In 2015, the Rutlish Foundation proposed taking back the lease of the playing field and pledged to make better use of the amenity for sport, particularly for younger players.
The organisation offered to invest cash into the pavilion, fencing and car park as well as taking on running costs. The WERA committee backed the Foundation's proposals, but the offer has not been taken up.
The WERA said: "The condition of the pavilion in Nursery Road playing field has worsened significantly over recent months. That is in part due to age but also to a lack of maintenance combined with vandalism. The result is a facility that is no longer usable and is probably unsafe for people climbing on its roof. There are holes in the fence and the car park is often flooded.
"Money continues to be spent on the facility while an offer of a large investment and the elimination of all ongoing costs for the Council continues to be ignored by senior management despite a large projected gap in the borough's finances".
Merton Council has been asked for a comment.
June 4, 2021