Baroness Karren Brady cuts the ribbon on refurbished private facility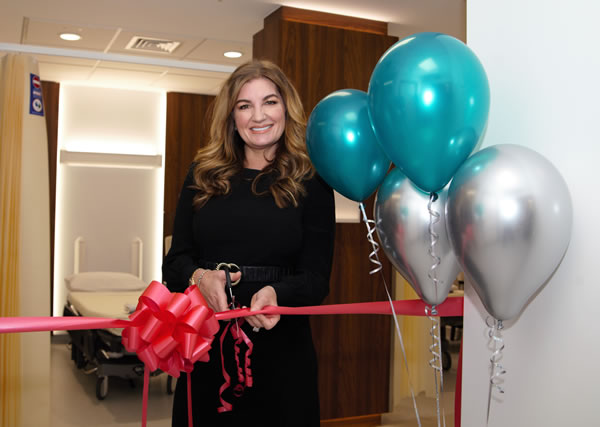 Businesswoman, sporting executive and star of BBC One's 'The Apprentice', Baroness Karren Brady, opened the refurbished Day Unit at Parkside Private Hospital in Wimbledon.
Baroness Brady cut the ribbon to open the state-of-the-art day surgery unit which includes 12 private pods for patients undergoing planned day case surgical procedures, as well as a new reception and waiting area.
Opening the centre, Baroness Brady said: "I'm delighted to declare this new Day Unit at Parkside open. Coming to hospital can often be a worrying time and it's fantastic to know that patients and visitors coming to the hospital can enjoy these superbly enhanced facilities. It's exactly the sort of environment you want to be in as a patient, and there should be no doubt that Parkside Hospital will give people an exceptional service."
​
Phil Bates, Hospital Director at Parkside Private Hospital, said: "At Parkside we're always looking for ways to better serve our patients, whether that's investing in new equipment such as our new MRI Mako robot or additional training for our staff.

"This significant investment in our hospital has allowed us to move away from open-plan accommodation to developing a contemporary Day Unit with spacious pods that will not only increase patient comfort but also enhance patient privacy and dignity. Patients coming to Parkside for day surgery will really benefit from this attractive new environment and our new reception area."
The refurbishment marks the start of a phase in the hospital's 35-plus year history including ongoing work to redevelop the hospital's front entrance and reception area.
The new Day Unit, where patients undergo planned surgical procedures, is the culmination of a £2.7m refurbishment project that started in summer 2019 and thousands of patients at Parkside Hospital will benefit from these changes.
January 31, 2020