Blaze and explosion in Raynes Park thought to be caused by uncapped gas pipe
A suspected gas explosion has caused the front of a Raynes Park house to blow out and took firefighters more than two hours to bring a blaze under control.
The explosion took place in Haynt Walk, Raynes Park, just 15 minutes after a man living in the property had left not long after 6pm on Friday (October 19).
London Fire Brigade said crews arrived to find the front of the house had been blown out by the force of the blaze and there was a significant fire in progress.

A cordon was put in place and around 20 people from neighbouring properties were evacuated as a precaution. The cause of the explosion is believed to have been an uncapped gas pipe venting into the kitchen.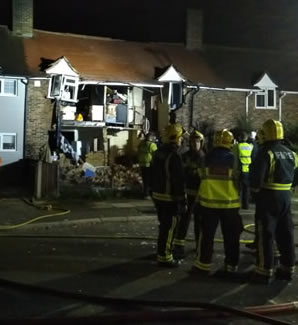 The picture on the left is courtesy of @ClaireWomble and the image on the right is from @LFBMerton.

Neighbours have since set up a fund-raising campaign to help the couple living in the property, who had been there for more than 30 years. Donations can be made on this page: https://www.gofundme.com/t58rwe.
Station Manager Lee Sparks said: "Crews were faced with a significant fire which on both floors of the property and punching out the rear and front of the house. As soon as the fire was extinguished specialist crews began a detection, identification and monitoring sweep of the area which means they were checking for any raised gas levels."

The Brigade said they were called at 6.24pm and the incident was under control by 9.05pm. Fire crews from New Malden, Wimbledon and Sutton fire stations attended the scene.
October 22, 2018