Three-day event promises to offer a culinary experience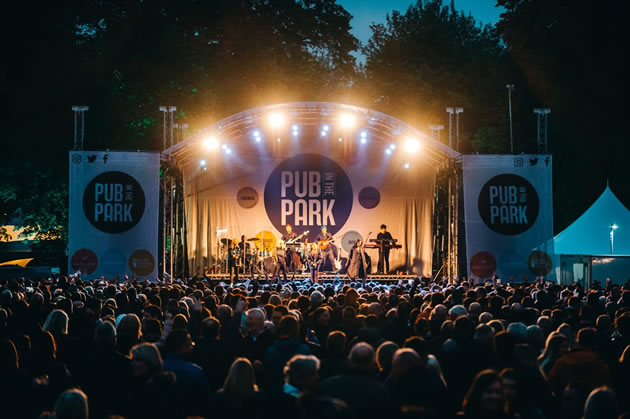 Pub in the Park: Coming soon to Wimbledon Park
The UK's largest touring food and music festival Pub in the Park is returning to Wimbledon Park again, with a three-day event from May 12-14.
It promises bring a unique culinary festival experience to Wimbledon Park with a line-up of renowned chefs, food and live music.
Visitors will be able to taste and discover dishes from a variety of pubs and restaurants, created by some of the most talented chefs in the business.
From classic British pub fare to sunny Spanish delights and Sri Lankan Street food to Indian comfort food, there really is something to satisfy every palate. With so many tasty options on offer, visitors will be spoilt for choice.

Highlights from the menu include; The Hand & Flowers' Smoked Cheddar, BBQ Bourbon and Jalapeño Burger, Atul Kochhar Restaurants' Keema Pao; Lamb mince served with buns, mint chutney, Hoppers' Chicken Buriani; an aromatic chicken and rice dish, Tapas Brindisa's Croquetas de jamon and Cubitt House's Charcoal Grilled Chicken with wild garlic slaw and lemon butter.

Brand new for this year, Pub in the Park will be introducing a Chef's Special dish on each menu. This item will be a personal take on a dish that inspired our chefs, or a wonderful memory they just can't forget. Whether reimagining a family favourite or taking inspiration from a childhood holiday, each dish has a heartfelt narrative and history.
The Hand & Flowers' Chef's Special will be Tom Kerridge's take on a classic hot dog. His Curry Dog will be served with curry ketchup, chilli and mint chutney with bombay mix. Tom said: "This hot dog is a massive trip down memory lane, and reminds me of going for a deep fried sausage and curry sauce at the local chippy when growing up in Matson, Gloucester."

Hoppers will be showcasing their Mutton Rolls. Head Chef Karan Gokani takes inspiration from one of his favourite memories and said: "The mutton roll is quintessential Sri Lankan food. It's something that I ate for the first time on a trip to Sri Lanka with friends, back in 2008. It was something that really stuck in my mind and ever since then it's been one of my favourite things."
For the herbivores, there are a number of plant-based offerings as each restaurant will have at least one veggie option on the menu including; Hoppers' Jackfruit and Chickpea Curry, The Hand & Flowers' Vegetarian Hot Dog with Matson curry ketchup and Bombay mix and Tapas Brindisa's Albondigas Veganas; aubergine & spinach vegan meatballs, tomato sauce.

Due to popular demand, for the first time, every pub and restaurant at the festival will also offer a children's dish.
Music includes Bananarama and Judge Jules on Friday; Dick and Dom DJ set, The Feeling, Clean Bandit and DJ Spoony on Saturday; Gabrielle, The Christians and The Beatles Dub Club on Sunday.
Tickets, full line-up and further information can be found at pubintheparkuk.com.
April 19, 2023