Interactive performance aimed at cutting road deaths
An imaginative road safety campaign aimed at children and run by the Wimbledon-based Polka Theatre shows no sign of slowing down.
Entitled Arrive Alive and Around the Corner, the interactive performances will tour schools in Merton and, for the first time, other London boroughs, from Monday (February 25).
The Creative Learning Department of Polka Theatre, on The Broadway, was commissioned by Merton Transport to explore the themes of road safety and The Green Cross Code in an accessible way for Year 2s and Year 6s.
Each interactive performance is led by two actors who use drama to create a stimulating environment where children can engage with the characters and issues by directly participating in the action.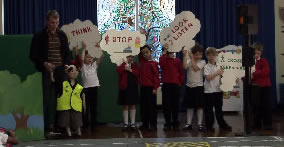 The project is designed to be fun and energetic, holding the attention of the children and reinforcing the Road Safety message. Around the Corner (for ages 6 – 7) sees young puppet Spike planning a walk to school with his Dad, whereas Arrive Alive (for ages 10 – 11) takes the dynamic form of a game show with the class.
Figures published by the Department for Transport in 2010 show that 2,502 children under the age of 16 were killed or seriously injured on the road, which accounts for around 35% of all childhood deaths. These performances are aimed at reinforcing the importance of good road safety practice in a fun, innovative and engaging way, equipping young people with the knowledge of how to stay safe on London's roads.
Janna Feldman, Head of Creative Learning at Polka Theatre, said: "We have been encouraged by the overwhelmingly positive impact the performance has had on both pupils and teachers across the borough of Merton.
"The performances stress the importance of taking responsibility for oneself when it comes to safety on the roads and is fun and engaging. We hope to continue to raise awareness in a creative and relevant way and are looking forward to reaching school children in other London boroughs."

February 22, 2013