Fellow Polka patron Amanda Holden will also put teams through their paces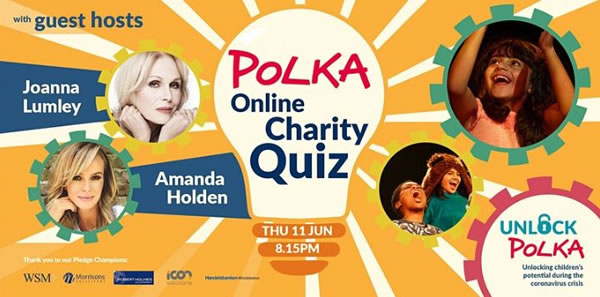 Joanna Lumley and Amanda Holden are hosting a night of quick-thinking, creativity and surprises with the Polka Theatre's Online Charity Quiz.
Teams will be put through their paces by the two Polka patrons, as well as other guest hosts Jamael Westman (star of Hamilton), Keith Lemon (host of Celebrity Juice) and Angela Griffin (Fiona Middleton, Coronation Street).
The event will be streamed live on Facebook from 8.15pm on Thursday (June 11), with opportunities to support the theatre's Unlock Polka campaign, raising vital funds to continue the Wimbledon theatre's support for children and teachers during the Covid-19 crisis.
The UK's 'Number One' Children's Theatre, Polka is a registered charity and provides creative opportunities and support for families, teachers and children experiencing hardship.
The organisation, like many theatres, has been dealt a blow by the pandemic, whilst currently undertaking a £7.65 million building redevelopment. Work on the site of their re-imagined home has been significantly delayed and plans for reopening have been pushed back to Spring 2021, leaving them with a £500,000 hole in their plans.
Despite this, Polka continues to support families and schools through its digital platform Polka Online, with free activities, workshops, storytelling, teacher lesson plans and much more. They are also providing free creative opportunities for at risk children.
Through its creative learning programme, Polka works closely with children providing a safe and creative space to explore and express themselves. Many of these children and their families are experiencing hardship, with no access to green spaces to play, overcrowded homes and limited funds to meet their immediate needs to cover food and rent, let alone creative materials and colouring pencils.
The Unlock Polka campaign will raise vital funds to continue these programme, ensuring as many children from all backgrounds can benefit from Polka's creative opportunities.
Amanda Holden, best known as a judge on Britain's Got Talent, said: "I'm really looking forward to joining in with Polka Theatre's Big Charity Quiz Night on Thursday June 11th. I'm proud to be a patron of Polka, a theatre I've enjoyed visiting since 2008 with my daughters.
"Though the theatre is currently closed, Polka is still doing amazing things to support children impacted by Covid 19 while also continuing their theatre redevelopment. I wholeheartedly encourage anyone who believes in the power of creativity and the crucial role it plays during childhood to join in and support the invaluable work of this fabulous theatre. Live theatre is vital for our children's minds, imaginations and health."
The quiz will be hosted on Facebook (anyone can watch, you don't need a Facebook account) and will be free to join, however Polka is asking for a suggested donation of £25, to contribute towards costs for creative learning activities for families to enjoy free of charge. There will be opportunities to give throughout the night and prizes are in store for the winners.
Polka Online Charity Quiz Thu 11 Jun | 8.15pm
Register to join and donate: https://bit.ly/PolkaQuiz
June 5, 2020