Enraptured fans relive their teenage years with dazzling show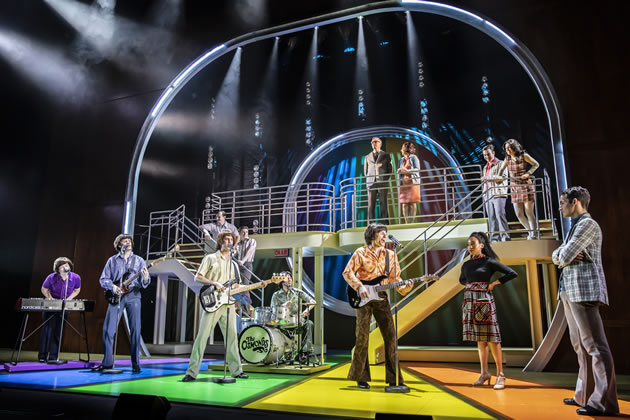 The Osmonds - A New Musical brings colour and excitement to New Wimbledon Theatre
The Osmonds - A New Musical bursts into life from the off as the curtain rises to see the talented cast playing the famous American brothers performing a powerful version of 'One Way Ticket To Anywhere'.
It's fair to say the audience at New Wimbledon Theatre was instantly won over at the sight and sound of this version of The Osmonds in their white and colour-trimmed jump suits.
Bearing in mind this show is based on Jay Osmond's own story, and many in the audience probably had his poster up in their childhood bedroom, it's true the cast probably didn't have to work too hard to win approval. But that doesn't mean the show wasn't worthy of its standing ovation.
In case you didn't know, the Utah-born Osmonds first came to prominence in the 1960s when Alan, Wayne, Merrill and Jay Osmond appeared as a boy barbershop quartet on US TV's 'Andy Williams Show'. This is really where Alex Lodge as Jay, who is part narrator in this show, begins to tell his family's story.
The youngsters playing the four young brothers are charming and in perfect tune as they perform in front of the TV cameras when narrator Jay starts to turn back the clock. Before long the Mormon family is signed up by Walt Disney and by the 1970s, fellow siblings Donny, Marie and Jimmy Osmond also prove to be talented musicians.
At this stage the real-life Osmonds attracted a crowd of 10,000 screaming girls to Heathrow Airport when they landed to embark on a UK tour.
But Jay's story also features the dark side behind the family's success, with his strict World War Two veteran father George (played by Charlie Allen) giving his orders and keeping the children in line. Both Jay and Merrill (Ryan Anderson) try to make early rebellions, but the family band has to come first.
However, the Osmonds manage to put their private struggles behind them to demonstrate real joy in their music. It's no wonder that today's audience was clapping in time throughout the show.
Songs familiar to those born in the 1950s and 60s include 'Long Haired Lover From Liverpool', 'Paper Roses', 'One Bad Apple', 'Let Me In', 'Puppy Love', 'Love Me For A Reason' and 'Crazy Horses'.
There's also a touch of humour as Wendy (Sophie Hirst) writes to Jay from her Manchester home and signs all her fan mail as his "number one fan". She pops up throughout the show and always raises a smile with her latest missive from the heart.
The set reflects the vibe of the 1970s, with a coloured disco floor and spotlights. It's not too distracting from the performances, with the costumes also helping set the perfect scene.
Jay's story does have more down times as the show tells how the famous family almost went bust. But this essentially upbeat musical has us up on our feet when it ends on a high with an encore of 'Crazy Horses'. To everyone's surprise on press night, the real Jay Osmond came down from the Dress Circle to sing the lead vocals as he did in the 1970s. While I can't promise he'll do that again, this show will definitely entertain you.
Listings information:
To Sat August 25
93 The Broadway, Wimbledon, London SW19 1QG
Tue - Sat at 19:30
Thu and Sat at 14:30
By Sue Choularton
August 25, 2022