Jonathan Edwards Marks Merton As Olympic Host
Olympic gold medallist Jonathan Edwards raised the flag to mark Merton as an official host borough of the London 2012 Olympic and Paralympic Games.
The flag was outside Merton Civic Centre in Morden by the former triple jump star who still holds the world-record for his discipline.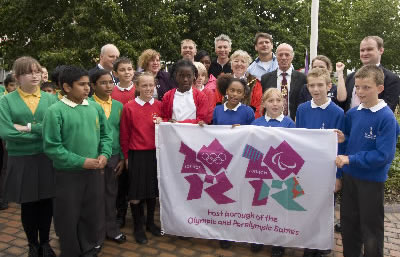 He was joined by pupils from Poplar, Abbotsbury and Morden primary schools and members of the council.
Special guests also included Ray Stevens (pictured below with Jonathan and the children), Olympic silver medallist and the most recent British male to win a medal for Judo.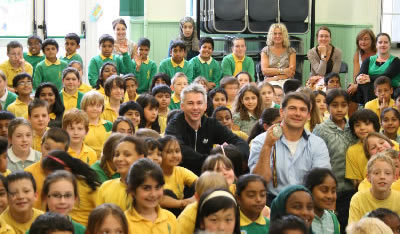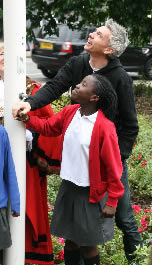 Up and coming athletes were also in attendance, to demonstrate the future of Merton's sporting stars. Emma Britton is the currently GB number two in gymnastic trampolining and Kerri Davidson is also GB number one for the under 15 triple jump.
Both girls are training as part of the Greenwich Leisure Limited Sports Foundation, which supports young athletes in the borough.
A special mention was given to Damien Williams, a resident of the borough who was recently awarded the Volunteer of the Year award at the PRO-ACTIVE London Awards for Community Sport and Physical Activity. Damien manages Merton's London Youth Games rugby team and dedicates his time to promoting sport to young people in the borough. In light of his recent achievement, Jonathan Edwards awarded him an Olympic commemorative coin and presentation card.
Nominations are aopen for 8,000 torchbearers to be part of the Olympic Torch Relay taking place nationwide, including its run through Merton.
Organisers are looking for those who have made a difference within their community, go above and beyond their job or have acted as a positive role model to young people.
Jonathan Edwards said: "The 2012 Games coming to London is a great opportunity, which I hope will encourage youngsters up and down the country to get involved in sport. Sport has something good to offer everyone. It helps you stay healthy, builds your self esteem and can open the door to many great opportunities."

Cabinet member for community and culture, Councillor Martin Whelton said: "We are extremely proud to be a host borough for London 2012 and look forward to sharing the experience with all of our residents. I'm looking forward to seeing everyone getting involved and getting into the Olympic spirit."
Will the Olympics be good for Merton? Why not comment on our forum?
June 16, 2011