Stained glass window has been designed by a local artist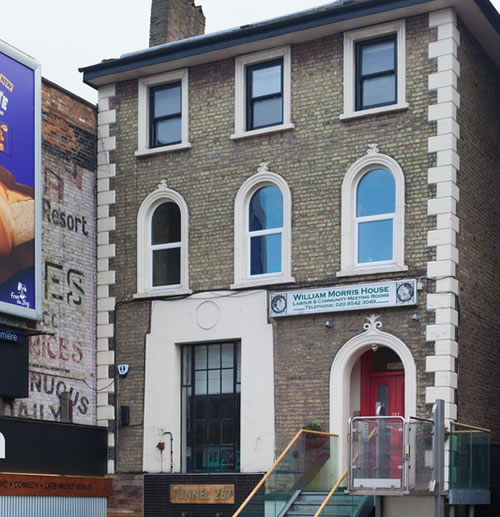 A specially commissioned stained glass window commemorating William Morris and designed by local stained glass artist Gareth Harmer will be unveiled at William Morris House Wimbledon on June 16.
The William Morris window measures 2.7m tall and 1.56 m wide and took around three months to design and build. It is framed in a specially designed oak frame.
It can be seen at the front of William Morris House on the Broadway. Those wishing to view it should email William Morris Meeting Rooms at: manager.wmhouse@gmail.com.
Peter Walker the Chair of William Morris House said: "This window seeks to build on the local artistic legacy of Morris who works were nearby at Merton Abbey Mills in South Wimbledon.
"Apparently Morris often walked from his house in Hammersmith to Merton Abbey via Wimbledon and past our house. We like to think if he walked past today he would be cheered by this colourful and joyful window."
The window was the idea of local resident and the Wimbledon Bookfest founder, Tony Kane and commissioned by the management committee of William Morris house and cost around £13,500.
Tony sadly passed away recently, and the unveiling will be performed by his wife Maggie Kane.
The window in the style of Morris contains the following words:
"This window, inspired by Tony Kane, seeks to promote art as championed by the socialist, and artist, William Morris."
"History has remembered the kings and warriors, because they destroyed; art has remembered the people, because they created.
"We are only the trustees for those who come after us."
William Morris (1834 – 1896)
June 7, 2019