But row over plans to move Merton Park into neighbouring Mitcham & Morden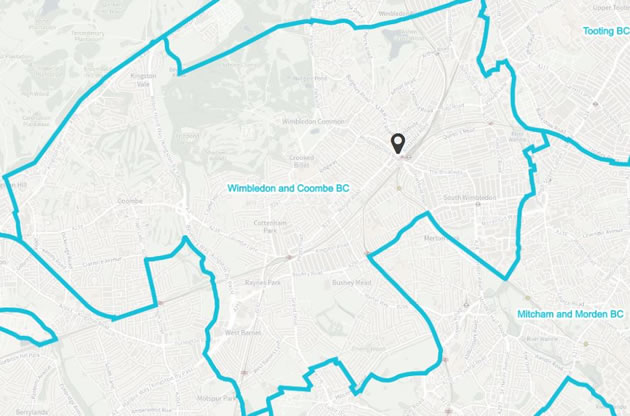 The Wimbledon constituency looks set to be re-named and expanded as part of a radical overhaul of representation in Westminster.
The Boundary Commission has published its latest recommendations for constituency borders, which would see the constituency re-named Wimbledon and Coombe.
The body has also amended its previous plans to adjust local boundaries by proposing Merton Park ward is moved from the existing Wimbledon constituency into neighbouring Mitcham & Morden.
Constituency boundaries have been under review for five years or more, to ensure every constituency has between 69,724 and 77,062 electors, so that each vote carries equal weight. Both Merton constituencies fall short against the 2010 baseline – Wimbledon 65,936, Mitcham & Morden 67,074.
The last set of proposals, published in 2021, moved Cannon Hill ward into the safe Labour seat of Mitcham & Morden. But nearly 100 objections to this move came from Cannon Hill residents, who claimed a closer affinity to Wimbledon.
The Boundary Commission denies that it takes party political considerations into account when re-drawing boundaries. It states: "As far as possible, we try to have regard to local ties, geographic factors, local government boundaries, existing constituencies and minimising disruption caused by proposed change".
However, a statement from the Merton Park Ward Independent Residents Association (MPWRA) pointed out that Merton Park is physically closer to Wimbledon than the Cannon Hill ward.
Although the Boundary Commission only unveiled its latest proposals earlier this month, it has given less than four weeks for comments to be made. The deadline is December 5, and you can find out more on www.bcereviews.org.uk.
The statement from the MPWRA said: "Residents of Merton Park Ward have been given less than four weeks to object to the Boundary Commission if they do not want their Ward transferred from Wimbledon BC to Mitcham & Morden BC.
"This proposal has never been tabled before, and has taken us all by surprise. Residents had always assumed their Ward was part of Wimbledon BC, and there had been no hint of any change until the beginning of this week.
"What happened is that an earlier proposal to transfer Cannon Hill Ward to Mitcham & Morden BC met with objections from residents who (with the assistance of the MP) prevailed upon the Boundary Commission to keep Cannon Hill Ward in Wimbledon BC.
The Boundary Commission has responded by trading Merton Park Ward for Cannon Hill Ward to to keep the numbers balanced – but without conducting proper consultation first."
The proposed new Wimbledon & Coombe constituency would have an electorate of 75,714. The current Wimbledon seat is now a marginal, with Stephen Hammond winning the seat by a margin of just 628 votes against the Lib Dems at the last election.
November 16, 2022