Fast food restaurant will be on the site of former Burger King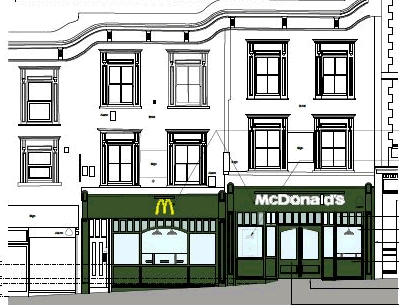 Plans for a McDonalds in Wimbledon town centre, on the site of the former Burger King have been approved by Merton Borough Council.
The Burger King fast food outlet on The Broadway has been empty since last summer, but McDonalds have applied for planning permission to convert the frontage of the building, including illuminated signs.
The scheme was given the go-ahead by planning officer William Lewis on May 18, acting under delegated powers. Sudbury-based agent Planware had submitted the plans, including the above drawing, in March.
Mr Lewis said the plan had received only one objection, from someone who stated: "To allow a multinational company such as McDonald's to open the store in such a prominent corner of The Broadway will endanger the survival of many of the establishments in Wimbledon town centre and would negatively impact many independent businesses."
Chris Goodair Chair, Wimbledon Society Planning & Environment Committee, said: "In a property located in a Conservation Area an effort being made to retain the character is to be applauded, and it is very welcome to see that in this application it is proposed that the pilasters and corbels above them are to be retained and re-decorated. As regards the lighting, the signage should only be externally illuminated as set out in the Design Guidance for Conservation Areas."
Wimbledon East Hillside Residents Association said: "The retention of character and appearance is supported.The refurbishment of the ground floor unit would emphasise that the upper floors of the· building are in poor condition. The applicant might approach the Council to restore the rest of the building frontage. Periodic jet-spraying should be used on the exterior footpath to remove any food or drink· related waste. Glazing used on the windows should use strengthened glass.· A strict regime should be established and maintained for deliveries and waste/recycling· collection. McDonalds should strive for a truly zero carbon operation."
Planning officer Mr Lewis said that as the building has already been used as a restaurant and hot food takeaway, then he had no remit to control its continued use. He said the application would retain the design of the existing shopfront and would conserve its key architectural features as identified in the 'Broadway Conservation Area Design Guide', including the fascia, pilasters and projecting cornice.
May 22, 2020