'Box-style' scheme will incorporate a live green wall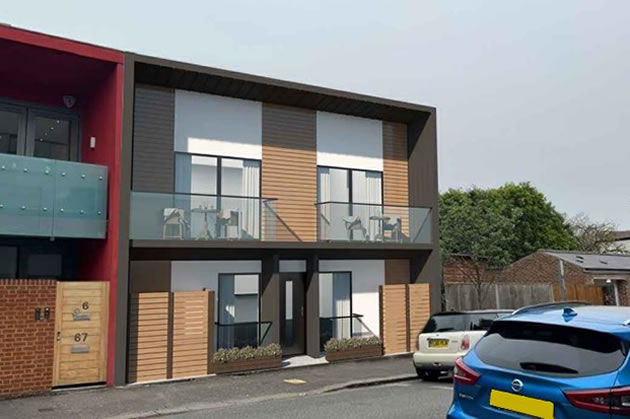 Alwyne Road 'box-style' flats plan
Plans have been submitted for a 'box-style' block of flats, incorporating basement bedrooms and a "live green wall" in Wimbledon town centre.
Wimbledon-based property investors Ernle Estates have applied for planning permission to build three flats on derelict and overgrown land in Alwyne Road.
They want to build one two-bedroom flat and two one-bedroom flats after demolishing the remains of an old garage on the site, which is close to the Wimbledon Hill Road junction.
The developers stated in their application: "The site lends itself to development of a residential nature, it is set back from the main commercially active Wimbledon Hill Road and is within the residential area of Alwyne Road.
"The immediate area is of a Victorian suburb, with high quality detailing and features consistent with the architecture of the period, in both residential and commercial buildings. The buildings also make use of a restricted palette of materials, including brick (red), stone and brick detailing, areas of render and tiled roofs.
"The proposals look to take inspiration from the immediate local area, the use of similar colour materials, albeit different types integrated in the building's façade."
They describe their design, which was submitted to council planners earlier this month, as "contemporary" and "a simple box form structure".
It will incorporate cedar cladding, white rendered walls and a live green wall at the back of the proposed dwelling which will provide "buffer screening" to the building behind in Woodside.
Merton Council has yet to publish any comments on the scheme, but has made 11 nearby properties aware of the scheme as well as the council's own Future Merton department.
March 23, 2023