Music And Wine In Wimbledon Library
---
'Measure for Measure' with the Jigsaw Players
An innovative and fun evening of classical music-playing with the Jigsaw Players takes place in Merton Arts Space in Wimbledon Library on Friday (October 19).
This unique wine and music-tasting experience - 'Measure for Measure' - will offer a number of stringed pieces that organisers think best accompany Hannibal Brown's carefully-selected wines.

At the end of the evening, guests will vote for the most successful pairing, and the full movement of the winning piece will be played. Canapés to complement the wines also provided.

Venue: Merton Arts Space, Wimbledon Library, 35 Wimbledon Hill Road, Wimbledon, SW19 7NE.

Price: £30 (all inclusive).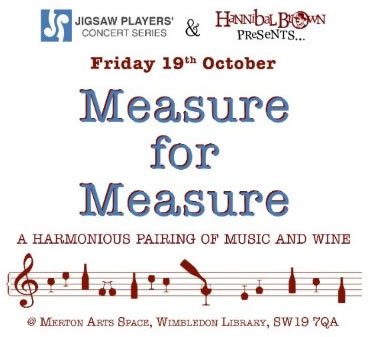 October 16, 2018