Springer Spaniel Ike hunts for Murray's tennis ball
Five year-old English Springer Spaniel Ike, one of the Met's most experienced search dogs, and five eight-week-old puppies have starred alongside Andy Murray in a social media campaign highlighting the fight against poaching and the illegal wildlife trade.
The campaign launched today (June 29) with a video starring Ike and Andy. This will be followed later on in the tennis championships with a second video with Andy and the five Cocker Spaniel puppies, Marigold, Marvin, Matilda, Misha and Maramaduke.
Filming took place last week within the AELTC's Wimbledon grounds and Ike's searching skills were called upon to find a tennis ball belonging to Andy.
Ike was bred by another police force and his official kennel name is 'Icon'-hence the name Ike - and he has been with his handler since he was one-year-old. Now considered a pro, Ike thoroughly enjoys work and his search skills were put to the test during the Commonwealth Games and Olympics. He has searched almost all of London's iconic sites including the Palace of Westminster, Downing Street and Buckingham Palace.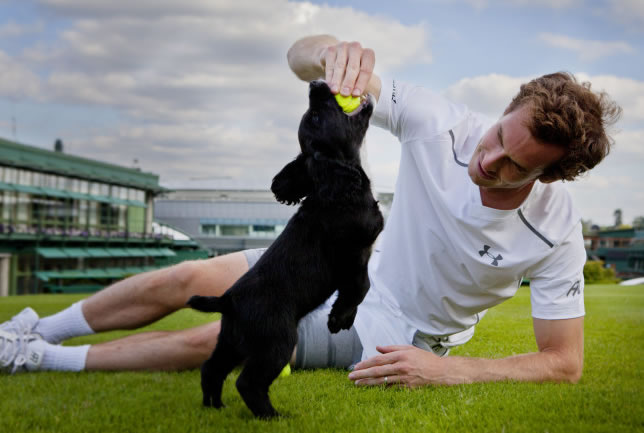 Following the filming with Ike it was the turn of the puppies known by their litter name as 'Mimosa'. The puppies are part of the largest litter the Met has had, consisting of 13 dogs altogether and they made their arrival on April 22.
Marigold, Marvin, Matilda, Misha and Maramaduke have yet to start their official training and won't do until they around nine months to a year old, so given this they were left to their own devices whilst Andy filmed his piece around them.
To find out more about the Met's dog support unit visit: http://content.met.police.uk/Site/dogsupportunit.
To find out more about Andy's support for WWF visit: wwf.org.uk/andy or to watch the video visit: https://www.facebook.com/WWFUnitedKingdom.
Join in the conversation with #GoWildForAndy and #GoWildForWimbledon.
June 29, 2015