Awards for borough's unsung heroes
Merton's unsung volunteers enjoyed their moment in the spotlight with the first Merton Partnership Volunteer Awards.
The awards celebrated the range of volunteering work done in the borough, recognising innovative projects involving volunteers and how organisations support them.
Awards were presented to individual local volunteers who have demonstrated outstanding commitment and enthusiasm.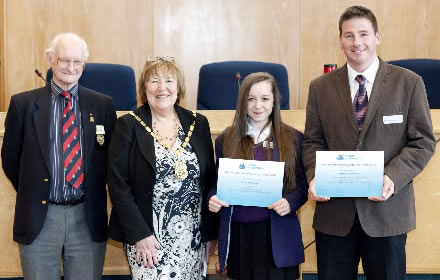 They included Mark Livingstone, joint Volunteer of the Year winner, and pictured here on the far right.
He was instrumental in increasing the numbers of youngsters training with the Hercules Wimbledon running club when he launched a 10-to-14 year group with the aim of developing children's running ability and building their confidence so they felt able to compete.
He said he encourages children not to focus on winning, but to do the best they can. Almost 100 youngsters took part in his training sessions in 2011.
He won jointly with John Potter (on the left of the picture), who started volunteering at Pollards Hill Library in 2010 and has since increasingly more of his time to the library service and shown real dedication to supporting reading.
Pictured with them is Aimee Braithwaite, aged 13, who won Young Volunteer of the Year. She has been a volunteer Peer Mentor at Shine Saturday school (Bond Primary in Mitcham) for more than a year. She spends her Saturdays offering study support to most disadvantaged children in Mitcham and helps primary students with their academic work as other activities.
The awards, introduced as part of the Merton Partnership's work to promote and publicise the contribution volunteering makes, celebrated the 40,000 plus volunteers in Merton whose work is worth £100m to the borough. All the winners are pictured above.
Merton Mayor Councillor Gilli Lewis-Lavender said: "I have seen so much good work done by our volunteers while I have been both Mayor and a volunteer myself, and it makes me very proud of every one of them. They all richly deserve these awards, and it will be an honour to present them."
Chair of the Merton Partnership and leader of the council, Councillor Stephen Alambritis, said: "Our volunteers do so many vital things to improve everyone's lives – they provide support in libraries, work with children, in local parks, with older people or those with a disability, in our hospitals and youth clubs.
"It's great to see that even during these challenging economic times, we can still find people who enthusiastically help others in need."
March 22, 2012