Merton Council wants people to recreate the spirit of 1945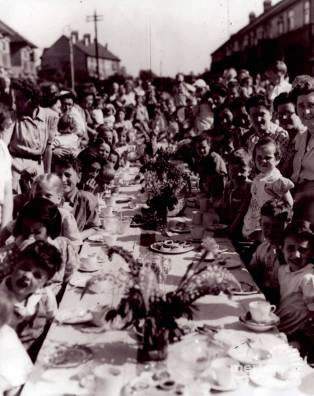 Wimbledon residents are being encouraged apply to close their road for a street party on 8, 9 or 10 May in celebration of the 75th anniversary of VE Day.
In May 1945, millions of people up and down the country took to the streets and pubs to celebrate the end of World War Two in Europe, mourn their loved ones and to hope for the future, and it's hoped that this spirit can be recreated at this year's street parties.
Events to mark the 75th anniversary of VE Day are set to sweep the nation after the Government moved the early May bank holiday to Friday 8 May to honour the occasion.
As well as the street parties, planned activities include traditional tunes played by pipers, a collective toast in pubs across the country, a coordinated ringing of church bells for peace and religious ceremonies of celebration and commemoration.
A listing of events both locally and nationally can be found at www.veday75.org. It includes a live screening of the VE Day 75 Albert Hall event being shown at cinemas, including the Odeon in Wimbledon Broadway from 7pm.
For more information on how to apply to close your road for a street party, visit http://www.merton.gov.uk/streetparties. The deadline for submitting an application to Merton Council is April 24.
Councillor Dennis Pearce, Merton Council's Armed Forces Champion, said, "VE Day was one of the most momentous days of the 20th century, and it's only right that we both celebrate the lasting peace that followed it as well as commemorate all those that gave their lives in the five years before.
"The 75th anniversary will provide our nation, and our friends around the world, with an opportunity to reflect on the enormous sacrifice, courage and determination of people from all walks of life, including the ancestors of many local families, who saw us through the dark and terrifying period that came before VE Day.
"We welcome the fact that the early May bank holiday has been moved to mark the anniversary and we'd encourage all residents to get involved with the weekend's schedule of events. One of the best ways to get involved is to get together with your neighbours and organise a street party. After WW2 ended, celebrations like these erupted up and down the country, and it would be fantastic to capture that jubilance and sense of community 75 years later on the streets of our borough."
February 24, 2020