Merton Scores An Ace At London's New Year's Day Parade
---
Cash prize for Wimbledon-themed entry helps Mayor of Merton's charities
Merton is celebrating another successful year at London's New Year's Day Parade after winning £5,000 for the Mayor's charities with its Wimbledon-themed entry, 'Merton Welcomes the World'.

Record crowds lined the streets of London to watch the 2019 parade as it made its way along the 2.2 mile route through the city. This year's theme 'London Welcomes The World' was reflected by the 8,000 participants representing 26 nations and 15 London boroughs.

In keeping with the parade's theme, Merton's entry, 'Merton Welcomes the World' was chosen because Merton is home to the world famous Wimbledon Tennis Championships and welcomes thousands of visitors from across the globe every year.

Two giant puppet tennis players, controlled by pupils from the Wimbledon College of Art, showed off their tennis skills whilst councilors, young people from Morden Little League and friends danced and sang to the parade song, 'Anyone for Tennis', which was composed by Councillor Linda Kirby and recorded by children from Links Primary School.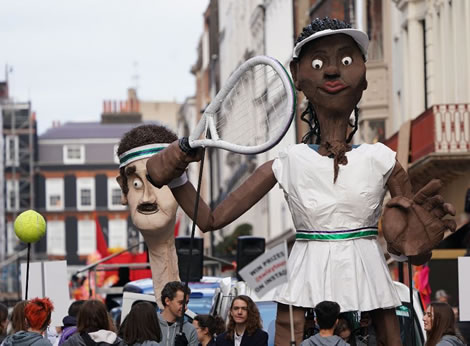 They were awarded £5,000 after coming 9th in the competition, which was won by the neighbouring borough of Sutton.

Mayor of Merton, Councillor Mary Curtin said: "It was fantastic to see Merton's entry in the New Year's Day Parade. We have been taking part in this competition for many years now and the effort that our talented team always put in is outstanding.

"I would like to thank everyone involved, with a special thanks to the students at Wimbledon College of Art and Deputy Mayor, Councillor Geraldine Stanford for organising the Merton entry. Due to everyone's efforts we've raised £5,000 for my two Mayoral charities."


January 8, 2019