Aim to raise funds for local good causes
Forget about the Great British Bake Off because Merton is getting its own version - but this time it is a Shave Off!
The Leader of the Council is grown a full beard this summer and is calling on people to sponsor the public shave off in September.
Councillor Stephen Alambritis has form when it comes to getting rid of facial hair for money. In 2011 he grew a grand curling moustache and raised just over £,2500 for Parkinson's UK Merton Branch.
The shave off in 2011 took place outside Merton Civic Centre with the then Mayor Councillor Gilli Lewis-Lavender beginning proceedings dressed as the grim reaper!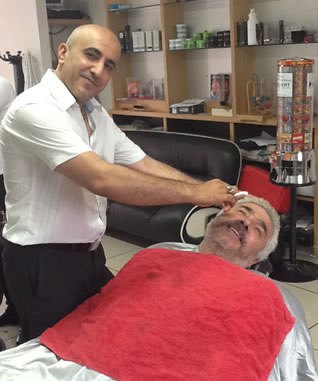 "I like to do my bit for the Mayor's charities and this is a grand way to raise some money. It also pleases my wife as she hates it when I go unshaven for this length of time," said Councilllor Alambritis.
During August he is touring local barbers to see who will shave him. "I want to see a scrum for which barber raises the most money to take part in the shave off. This way I hope to double the money raised from the 2011 effort."
He is pictured (left) with Mr Aggie Stylianou of The Park Barbers in Arthur Road, Wimbledon Park.

Mr Stylianou, said: "When I heard Stephen was growing a beard for charity I immediately said I would like to undertake the close shave!"

The money raised will go to the charities named by the current Mayor of Merton Councillor Agatha Akyigyina namely Shooting Star Chase, Merton Street Pastors, Colour House Theatre and Pilgrimage Trust.
To contribute, send a cheque payable to 'Mayor of Merton's Charities' to The Leader's Office, Merton Civic Centre, London Road, Morden, SM4 5DX.
August 15, 2014