Celebrating diversity in communities
To mark Interfaith Week a free quiz afternoon is taking place in Merton Park on Saturday November 19.
Merton Council, in partnership with the borough's Faith and Belief Forum, is holding the event at Poplar School in Merton Park, SW19 3JZ from 4pm to 6.pm.
Colliers Wood library will also be hosting 'The Lights that bind us' interfaith event on Thursday November 19 from 4pm to 7pm at their temporary site.
Interfaith Week is held in the third week of November to highlight the good work of local faith groups and to celebrate diversity in communities.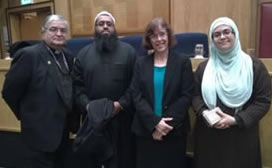 Merton's Cabinet Member for Community Safety, Engagement and Equalities, Councillor Edith Macauley, said: "Interfaith Week is time for us to come together to celebrate the positive things that living in a diverse community brings.
"The late Reverend Dr Andrew Wakefield was involved in planning the quiz afternoon and the event will now become a tribute to him and continue his commitment to bring people of different faiths and no faiths together, to socialise and learn more about each other."
November 15, 2016