Community group for local people to offer help or ask for support
A new local community group of like-minded neighbours volunteering to help other neighbours during the Covid-19 pandemic has grown to a network of more than 2,000 members on Facebook and 1,300 signed up volunteers.
Merton Mutual Aid has leafleted many residences in the borough but is keen to reach more of the elderly and vulnerable people in Merton needing help who aren't online or not yet seen a leaflet offering help.
The non-political informal mutual aid group from a diverse range of backgrounds has been meeting virtually through technology such as WhatsApp, Slack and Zoom setting up teams of volunteers, a website and Facebook page to provide support to residents in Merton, particularly those who are elderly, vulnerable or self-isolating.
Many streets in the norough now have their own mini-groups ready to support their closest neighbours with shopping and deliveries. All this has taken place since the group was set up on March 15, joining the umbrella organisation of the Covid-19 Mutual Aid UK movement.
It is coordinating with local community groups, charities, Merton Council, AFC Wimbledon and others to provide support in the local community, particularly for the elderly, vulnerable and those self-isolating that need support.
Zakaria Dada (pictured above), who founded the Merton Mutual Aid group, said: "I felt I couldn't just sit at home and watch it unfold in my community. I had to do something to support my neighbours and I knew I wasn't alone in wanting to help others."
Zak, who lives in Wimbledon, added: "We are already making a difference locally setting up ward by ward; street by street to provide support where needed. And we are working closely with Merton Council, MVSC, the Dons Local Action Group and others to get support right where it's needed in the heart of our community."
If you live or work in Merton and need help, complete the form on their website or email our Volunteer Support Team (VST) on mertonvst@gmail.com.
And if you can offer support, go to www.mertonmutualaid.net/volunteer which has a step-by-step process on how to volunteer and make the most impact on your community.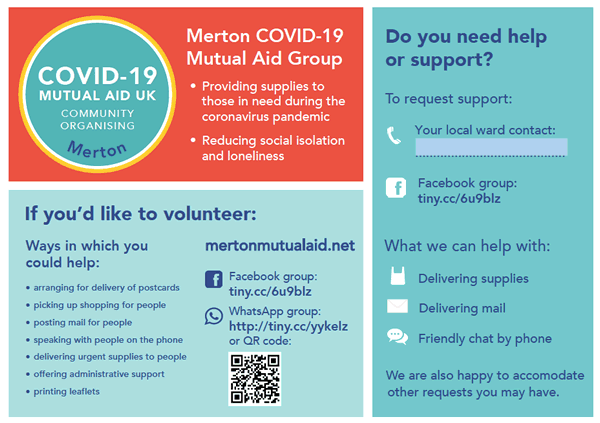 If you want to donate money, there is no Merton Mutual Aid Group fundraiser set up, but they have partnered with The Local Dons Action Group in coordination with Old Ruts and AFC Wimbledon to support their fundraiser and foodbank service.
April 1, 2020