Local trials take place soon
Young runners are being invited to trials to represent Merton in the 2011 Virgin Mini London Marathon, which takes place on Sunday April 17.
The race gives youngsters aged 11 and 17 a chance to compete against the best new talent in British road-running.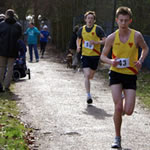 To run for Merton, you must either live in or attend a school in Merton. The team will be made up of boys and girls in the three age groups, 11-12 year olds, 13-14 year olds and 15-17 year olds.
The Virgin Mini London Marathon course is three miles long, running from London's Old Billingsgate to The Mall (the last three miles of the official London Marathon course). Previous winners of the Mini London Marathon include Mo Farah and Stephanie Twell, competitors from the Beijing Olympics, and Paralympians Shelly Woods and David Weir.
The Merton trials take place at Wimbledon Park Athletics Track in Home Park Road on Sunday February 6, with registration from 8.30am-8.45am. The race starts at 9am.
To enter, complete this registration form and email it to leisure@merton.gov.uk. If you are registering by post, the application will need to be received no later than Thursday February 3.
January 17, 2011