Merton Live! Will Showcase New Talent In Wimbledon
---
Community event will raise funds for local charity Wimbledon Guild
A new community event showcasing local talent in Merton is being organised by Wimbledon Guild and New Wimbledon Theatre.

Merton Live! taking place on Saturday January 26 will feature a line-up of local bands, dance, drama and gymnastics groups with performances throughout the day.
In addition, the theatre will be throwing open its doors for ticket-holders to explore this historic building with backstage tours and a host of theatre related activities for all the family including: workshops; dressing up in theatre costumes; face painting; insight to technical side of the theatre; arts and crafts; treasure hunt; food and drink, plus lots more.

Already confirmed to perform on the day are: DanceMode Mitcham; Merton Gymnastics Club; Rock Choir; RR6 Band; Rutlish School; The Study Wimbledon; Urban Dance City; Wimbledon High School; Wimbledon Stagecoach and Wimbledon Village School of Dance.

This family day out will help to raise money to aid the work Wimbledon Guild does to support local people in Merton who are experiencing social isolation and loneliness.

Tickets for the event costing £4.50 adults, £2.50 child and under 3s go free and are now available online via www.atgtickets.com/wimbledon.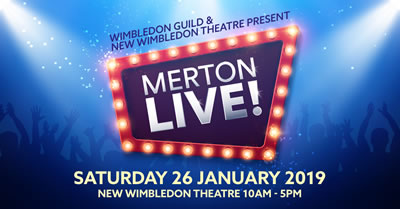 Merton Live! will be one of the charity's main fundraising events of 2019 and comes at a time when the charity is seeing an increase in the number of people seeking their support, as Wendy Pridmore, chief executive, explains: "We are delighted that through Merton Live! we will be able to showcase local talent and provide a feel-good winter warmer event on a cold and rainy January weekend.

"However, New Wimbledon Theatre and Wimbledon Guild have also developed this event for a more serious reason. A recent Arts Council survey highlighted that over 76% of older people felt that cultural and creative activities were key to making them feel happy, many people also do not realise the huge impact these events have to help older people maintain contact with others.
"In Merton, there are over 7,500 people aged 65 and over who live alone. At Wimbledon Guild we are seeing more and more people who have become lonely and isolated due to everyday life situations. In the past year alone, we helped over 2,000 vulnerable people who live, work or study in Merton. With our support and guidance, we managed to turn their lives around. But to provide tailored services such as outreach support, counselling, befriending, grief support, small grants as well as put on 120 activities a month and run a daily café comes at a cost.''
Pridmore concludes: "I am sure Merton Live! will be a wonderful day out for all ages and I look forward to welcoming people from across the borough who will be entertained and impressed by the young talent we have on our doorstep."
Nick Parr, theatre director, New Wimbledon Theatre added: "New Wimbledon Theatre has been at the heart of our local community for 108 years and Merton Live! marks the start of a new partnership with Wimbledon Guild which we hope will raise much needed funds for the charity and provide a fabulous family day out. We want the theatre to be open to everyone – so come inside and peak behind the curtains into the magical world of theatre."
December 3, 2018