Annual event will showcase Merton's heritage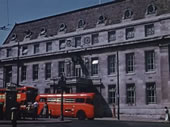 Local history enthusiasts are set to flock to Morden Library on Saturday May 11 for the annual Heritage Discovery Day.
This free showcase for Merton's heritage has grown in popularity year on year, with the 2019 event promises to offer more actitivies for all ages.
The programme for the day will include exhibitions, heritage workshops, children's craft activities, competitions, bitesize local history talks and outdoor cinema from the London Screen Archives.
There will also be a chance to visit the popular Heritage Marketplace, featuring stalls from Merton's many museums, visitor attractions, local history and community groups.
Whether you want to know more about your area, are looking for volunteering opportunities, souvenirs, or just a fun day out, the Discovery Day promises something for everyone.
Full details of the Discovery Day itinerary will be available from the beginning of April. You can also call Merton Heritage Centre for more information or email local.studies@merton.gov.uk
The Discovery Day will run from 12.30 - 4.30pm on May 11 at Morden Library, Merton Civic Centre.
April 12, 2019