Local volunteers enjoy float success
Merton's float won first prize in London New Year's Day Parade and Festival - the borough's fourth triumph in the last five years.
This year's parade through the capital had the theme - 'Hats off to London – Celebration Capital of the World' and was watched by more than half a million people.
At the heart of the parade there was a competition between the London boroughs called 'The Let's Help London Challenge'. Last year, Merton's entry Horsepower (right) won joint first place with The City of Westminster.
Merton also triumphed in 2009 and was second in 2010.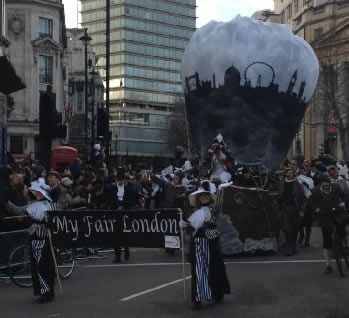 Merton's 2013 entry, called 'My Fair Lady' (above), was coordinated by Councillor Geraldine Stanford, who also provided the costumes, and built by students from Wimbledon College of Art with project manager Peter Wallder from Merton Abbey Mills.
The Younger Generation Theatre performed a dance routine to a song specially composed by Councillor Linda Kirby called 'London'.
Many friends and colleagues, councillors, council officers and volunteers from Merton, Morden and Wimbledon Guilds, as well as local businesses helped to make the day a success. Breakfast was provided on the way up to central London in the early morning, courtesy of Mike Smith from McDonalds.
The Mayor of Merton, Councillor David Williams, said: "I was honoured to step forward to receive the trophy and first prize of £7,500 for my Charitable Trust. A big thank you to all who made this happen after countless hours of voluntary work. I want to express my gratitude on behalf of all who will benefit, in due course, from the money raised for deserving causes in our borough."
This year's parade was the 27th and featured 10,000 performers representing 20 countries, including Pearly Kings and Queens, cheerleaders, marching bands, dancers and representatives from West End shows.
January 2, 2013