Soldiers join the fund-raising drive
Several of Merton's councillors joined serving members of the Armed Forces to sell poppies at Wimbledon train station on London Poppy Day, November 7.
The Conservative councillors joined soldiers from Woolwich and Aldershot Barracks in a drive to raise over £1 million from selling poppies on London Poppy Day during the morning rush from 7am – 9am.
Councillor Oonagh Moulton, Leader of Merton Conservatives and one of the Conservative poppy sellers, said: "It was a great privilege to be able to be part of London Poppy Day and I would like to thank the people using Wimbledon station for their very generous donations.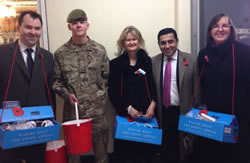 "Along with several of my colleagues, we were able to meet the soldiers who were stationed at Wimbledon that morning. We were also fortunate that a bagpiper from the barracks joined us – commuters were therefore treated to a more musical start to their day than they might normally be used to!
"On Remembrance Sunday and Armistice Day, we will solemnly remember the many men and women who have made the ultimate sacrifice for our country. My colleagues and I were therefore grateful to be able to help out with this year's fundraising activities in some small way. The Royal British Legion does incredible work helping former members of our Armed Forces and their families, and they certainly deserve our support."
November 11, 2013