Christmas design will boost Merton charity
Young artist Eleanor Farr's Christmas painting struck a winning chord in a contest to raise cash for a charity helping Merton youngsters realise their musical dreams.
The colourful winning design (right) by Eleanor, aged 11, included Santa and snowmen playing musical instruments and has been used on 500 cards to be sold to boost funds for Merton Music Foundation.
The talented artist from Wimbledon's Ursuline High School triumphed over more than 100 youngsters from five schools who took part in the competition.
Her design has now been placed on the front of a card to be sold by her school, local churches and other outlets, including at Wimbledon's Centre Court Shopping Centre.
Merton Music Foundation works with schools in Merton to provide a variety of musical tuition, chances to join in musical ensembles and other creative activities for children who may not be able to afford such opportunities otherwise.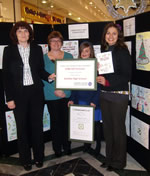 Eleanor was honoured at a prize-giving ceremony at Centre Court Shopping Centre (left) and has won a recording session at Crown Lane Professional Studio in Morden and is set to take a group of friends along to sing together.
She said: "I'm very happy and excited to have won the recording session and proud of myself for helping raise money for the Merton Music Foundation."
Eleanor's card is now also featured on the Wimbledon Centre Court's Shopping Centre website at www.centrecourtshopping.co.uk as well as raising cash for Merton Music Foundation which is the centre's nominated charity.
Ursuline High School will also receive £300 worth of art vouchers donated by the centre.
Marketing manager at Centre Court, Samantha Brown, said: "We loved the simplicity of Eleanor's colourful picture portraying musical instruments with singing and still incorporating the Christmas theme.
"For us our local community is key, we love to be at the heart of the community and that's why we support such a worthwhile local charity."
Ursuline High School art teacher Rohanna Torr said: "We as a school are truly thrilled that Eleanor's effort and creativity have been recognised in this way. And we are extremely proud that she is helping such a wonderful charity as our school has a strong ethos of helping our community.
"Eleanor has also helped future arts students at our school with the provision of the art supplies so we are delighted and very grateful to her and to the competition organisers."
John Mander, Chief Executive of Merton Music Foundation said: "We are delighted to have been chosen by Centre Court Shopping Centre as their nominated charity and we'd like to say a big thank you to Eleanor for her wonderful design.
"Everyone at MMF feels passionately about the importance of music in a child's education. Over recent years, studies have shown that music has a profound effect on children's intellectual and creative development. For those of us who are deeply involved in the teaching of music, it is apparent what a central role music can play in the development of children. By supporting MMF, Centre Court has taken a ground breaking decision that will impact on the lives of thousands of children and young people in Merton."
All the entries in the Christmas card competition will be displayed until Christmas in the lower shopping mall at Centre Court.
Centre Court will also continue to work closely with Merton Music Foundation to support instrumental lessons and instrument hire for children who are from low-income families. The support is open to all pupils in Merton schools.
Samantha added: "We're also sponsoring the With One Voice project - a large-scale song writing and choral project involving 1,500 pupils from Merton primary and secondary schools.
"This will culminate in MMF's 20th birthday event, which will be held on March 29, 2011 at the Royal Albert Hall."
November 22, 2010