Annual event recognises top businesses in Merton
A Wimbledon-based business that recruits new staff into cutting edge UK businesses has led the way at the Merton Best Business Awards 2016.
Over 250 people attended the high profile Awards Ceremony at the All England Club, where the winners of the Merton Best Business Awards, sponsored by Merton Chamber of Commerce, were announced.
"Tonight we have seen why Merton is such a great place to do business." said Andrew Wakefield from the Merton Chamber of Commerce. "We have seen the crowning of the best across our local economy and we have witnessed the championing of local firms and what they do. It's been a great evening."
The Overall Winner at the Awards was Eligo Recruitment, a Worple Road-based business of 30 dedicated recruitment consultants who source market leading jobs and candidates in the cutting edge sectors of IT, Energy, Fire and Security, Digital, Medical and Events. It was established in 2001 by John Doherty and Andy Molloy..
"Our congratulations go to Eligo for winning this very special award." said Gavin Stebbing from WSM. "They have shown by winning Employer of the Year and the Overall Winner that they are focused on delivering a first class offer to their customers and ensuring as a good employer they recognise that supporting the health and well-being of their staff makes good business sense."
The Customer Service of the Year Award, which was voted on by members of the Merton Business Community saw Wimbledon-based Tots Landing pipping Park Veterinary Practice to win the prize.
Tots Landing Ltd, based in Broadway Court, was the brain child of Rob Palmer Williams. Being a father of two young children, he wanted to be able to provide a safe, clean, fun soft play environment for the children of Wimbledon.
"Once again we have seen that we have such a depth of hard working, entrepreneurial and successful businesses in Merton." said Diana Sterck from Merton Chamber of Commerce. "It is right that we come together to celebrate that success and it is right that tell local people how proud they can be of the businesses that serve the local economy."
Wimbledon-based charity stem4, aimed at improving the early identification of commonly occurring mental health issues in teenagers, was the runner up in the Best Enterprising Business category.
Dr Nihara Krause CEO, Founder of stem4, said: "We are absolutely delighted to receive this award which recognises our innovative focus and input in raising early awareness and signposting to early intervention of teenage mental health issues as well as our youth friendly resources such as our 'Calm Harm' smart phone app. This award is also an acknowledgement of the hard work carried out by the team at stem4."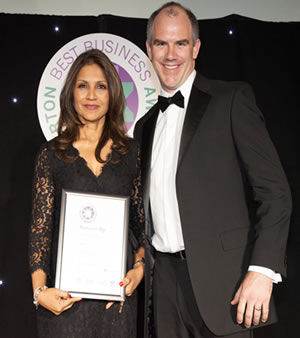 Dr Nihara Krause accepts the award from Ryan Carver, Close Brothers
"Once again we have seen that we have such a depth of hard working, entrepreneurial and successful businesses in Merton." said Diana Sterck from Merton Chamber of Commerce. "It is right that we come together to celebrate that success and it is right that tell local people how proud they can be of the businesses that serve the local economy."
October 3, 2016