Police chief looks at Anti-Social Behaviour (ASB) and his hopes for the recruitment process into the MPS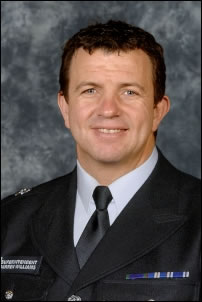 This summer, for the first time in Merton, we are going to be taking co-ordinated activity across the borough to tackle the specific ASB issues that matter to you and affect your quality of life.
During July, August and September we will be working with our partners and you at events such as community safety panels, Neighbourhood Watch committees; dedicated ASB ward panels and surgeries to try and gather as much information as possible about the issues that concern you most. We will also be visiting every repeat victim of anti-social behaviour to discus how we can better help them.
Running alongside this, we will be targeting our Top 5 ASB offenders for offences ranging from drug dealers, persistent street drinkers, nuisance neighbours, begging and disorder. This will involve a whole range of tactics such as officers executing warrants, enforcing the CDZ where appropriate and applying for Anti Social Behaviour Orders / Acceptable Behaviour Contracts. We will also be running a multi-agency operation to clean up an ASB hot spot and improve the look of the area by doing things such as removing abandoned cars, graffiti, and drug paraphernalia which will hopefully prevent locations from becoming a breeding ground for more serious crime.
We will also visit schools and youth clubs to raise awareness about how ASB impacts on people's lives - educating young people on how their behaviour can be perceived and affect others.
The key to all this work is the information you have about what is going on in your community. We need to know where the problems are and at what times - so we can work with you to decide the most appropriate course of action to take. I am totally committed to ensuring that we adopting this approach so we can quickly identify the problem and find the best ways to tackle the behaviour and reduce the harm it causes to individuals and communities so please contact us with any information.

Moving onto the recruitment, many of you heard me say that I need the Police in Merton to look and feel more like Merton. As our population continues to grow it becomes increasingly more diverse and to police successfully and with the consent, support and engagement of the public we serve, we need to recruit a workforce that more closely reflects local people.
For a while Sgt Steve Murfin and Inspector Jim Corbett have been working with partners to identify young people in Merton with the potential to become the officers of the future and they have been supporting these through the process of becoming special constables here. However, in the next few weeks the MPS is about to launch a media campaign to recruit members of the public directly into constable roles. This is the first time for many years that we have done this and it presents an unbelievable opportunity to recruit people from our local communities and support them throughout the processes from the application stage to when they arrive back in Merton as a warranted Police officer.
We have a wonderful and thriving community in Merton made up of many different backgrounds, race's and religions, so to truly make the police in Merton look and feel more like Merton I need to recruit young people from as many of our different backgrounds as possible. Steve and Jim have already started this work and we have our first 3 young people in the final stages of recruitment. We are planning to hold several recruitment events in the next few months at locations across Merton so please get in touch with us if you have a group of young people that we can talk to about becoming part of the greatest police service in the world.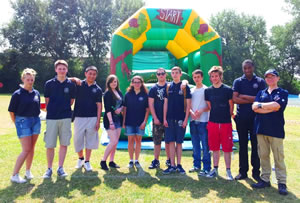 I know I said I was only going to cover 2 issues but I couldn't not mention my magnificent cadets again. I received a lovely letter this week from the chair of the PTA at St John Fisher RC Primary School, in West Wimbledon about how the cadets had helped them out at their Summer Fair. It seems they took on a variety of roles during the day and really helped make it a success.

Cadets at the St John Fisher RC Primary School Fete




We will always try and support community events like this across the borough if we can. The cadets are an amazing group of young people, always immaculately turned out and are a big help at local events. Likewise, if I am free, I will always try and pop along as not only do I like to see what is happening across the borough but it also gives me an opportunity to meet with people I wouldn't normally get to meet.
A big thank you to my friends at the Baitul Futuh Mosque in Morden for looking after me on Monday evening. I agreed with them that I would fast for the day with them as part of Ramadan. When all met up on Monday evening to break our fast together but I can safely say that they all coped much better than I did and I have renewed respect for the dedication that this takes, particularly in this weather.
That really is it, I hope that you all have a great weekend - by the time I write to you next week I hope we will have another British winner of the Tour de France.
Darren Williams
Chief Superintendent
Borough Commander Merton Borough

July 21, 2013