South Wimbledon junction has the worst air quality in the borough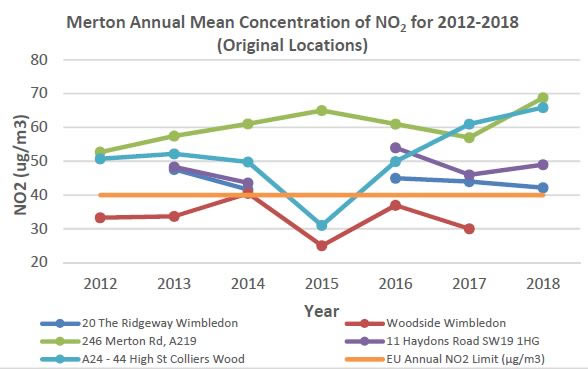 Air quality guidelines in Merton are not being met in most areas tested, according to the latest report issued by Merton Borough Council.
Many areas in and around Wimbledon reported Nitrogeon Dioxide (NO2) levels above the EU and UK objectives in 2018, with a monitoring point on Merton Road at the South Wimbledon junction performing the worst in the borough.
The target is for an NO2 limit of less than 40g m-3, but 72% of 50 monitored stations in the borough were over this level. The results from five sites in SW19 are shown on the above diagram.
Six of the sites which were above the limit, also exceeded an annual mean of 60gm-3.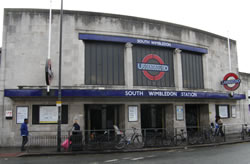 These sites were:
Merton Road, South Wimbledon, 68.8gm-3
London Road, Tooting, 67.3gm-3
High Street Colliers Wood, 65.9gm-3
Wimbledon Hill, 65.6gm-3
Upper Green West (Mitcham Town Centre), 63.7gm-3
London Road, Morden, 61.9gm-3.
Jason Andrews, from Merton's Environmental Health Team and author of the Air Quality Status Report for 2018 said: "A clear overall reduction in NO2 is not happening at the rate we had expected. It is known that Euro VI/6 standards have failed to deliver the forecast reductions in NO2 levels in real world driving conditions that were predicted.
"The sale of diesel cars has seen a significant reduction over time but the diesel rental market, second-hand diesel market and tempting offers from vehicle manufacturers to buy diesel continues to keep/introduce diesels on to our roads.
"The number of overall vehicles on the road has continued to increase, hindering reductions in NO2. A review of the Council's diesel levy will be completed in 2019/2020 to confirm how effective the levy has been in changing driver behaviour towards more environmentally friendly vehicles and the associated air quality benefits.
"The overall monitoring results for the Borough show that NO2 concentrations exceeded the UK annual mean objective (as it has done for each year since 2005), and improvements are still required.
"As the greatest exceedences occur in town centre and arterial routes through the borough Clean Air Zones supported by other transport related measures such as lobbying TfL for cleaner buses quicker, the diesel levy and encouraging behaviour change of drivers towards more sustainable and lower emission vehicles is key in tackling air pollution."
The report added that Merton still exceeds the Government Air Quality objectives, and therefore there is a continuing need for Merton to be designated as an Air Quality Management Area and to pursue improvements in air quality.
In addition the two sites that have seen the largest increase will be investigated, these are High Street, Colliers Wood, which had 31gm-3 in 2015 and 65.9m-3 in 2018 and London Road, Morden, which had 38gm-3 in 2016 and 61.9gm-3 in 2018.
September 10, 2019