Scheme is a smaller version of development which was turned down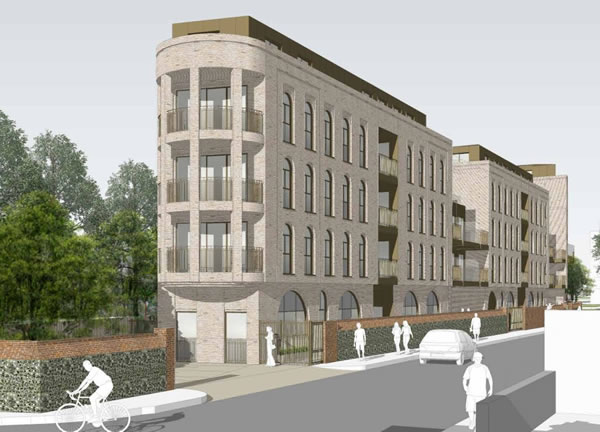 Plans have been approved for a part five-storey high flats development on the former Abbey Wall Works at Station Road, South Wimbledon.
The development will include 58 flats – which is a reduction of 14 flats on an earlier application, which rose to six storeys in places and failed to gain approval.
Merton council's planning committee approved the new application (see artist's impression above) at a planning committee earlier this week. It will also include a ground floor commerical outlet, which will not be a supermarket
But Conservative Abbey ward Councillor Nigel Benbow has pointed out its proximity to the historic Merton Priory wall, with the planning application stating it will involve alterations to the listed wall. He also questioned the scale of the development.
He said: "I am massively disappointed this still demonstrates the sheer height and mass of the proposed new building block of flats still sitting 'right in the face' of the existing residents living on the north side of Station Road with Edwardian properties. That's my concern, on whether, or not, the height and size of the proposed new building have been scaled back enough?
"Station Road is a 'lane' and has rich historical links to the Grade II listed Merton Priory wall and must continue to be preserved for future generations.
"The whole community on Station Road, as well as the adjoining Abbey Road, remains completely against the revised planning proposals, bearing in mind they're already concerned about the traffic knock-on effects once the new secondary school opens next October."
It is understood plans for a nine-storey block on the nearby Eddie Catz site, by the Savacentre roundabout, are now being developed.
July 17, 2020