Four medals for our local fencers
There were a lot of Wimbledon fencers in action last weekend, with many emerging with medals!
Rachel Carter, Kate Downer and Mark Richardson fenced in the Chichester open épée on Saturday July 8. Rachel had a slow start in the poules which meant her first DE was against British number 18 Heather Jarrold.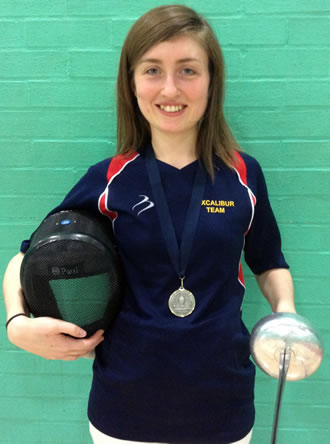 It was a tense bout where Rachel (left) would go two points in the lead only for Heather to catch up time after time eventually overtaking Rachel at 11-10. Rachel fought back, eventually equalising at 14-14 before scoring the final hit. She then had to fence top seed at the competition Ellie Parmar from Redhill and Reigate. In another close match Rachel stayed ahead until winning the bout 15-13.
In the semi's she was up against Helena Caro from Spain. Caro took an early lead but Rachel fought back hard and went on to win, earning a place in the final against former four time British number one and Commonwealth silver medalist, Jo Maynard from Cobham Fencing club in the final. It was an exciting match and Rachel held her own only losing by two points to come away with the silver medal and a £20 Allstar Uhlmann voucher. Kate finished 14th in the women's and Mark 17th in the men's.
In the afternoon Mark, Kate and Rachel fenced in the mixed team épée competition and finished in a creditable fifth place going out in the last eight to Jo Maynard's Cobham team.
On Sunday July 9, in the London novice women's épée, Isabella Cicchello Gaccio fenced in her first individual event. In the first round of poules, which were mixed, she fenced intermediate men and although scoring a few nice hits did not win any bouts but in the second round she achieved her first win beating one of the men 5-2 which put her in a good position going into the novice women's DE.
In the final she stayed ahead until the score reached 14-13 and, despite intense coaching from her husband Marco Russo on the side of the piste, was unfortunate not to get the last hit and lost in the final 15-14.
Mark Harrison won gold in the men's intermediate épée and Pawel Zakiewicz (left) won bronze in the men's intermediate sabre.
Wimbledon fencing club runs regular beginner courses and will be holding a Fencing Taster Session for Adults on September 14, so you can try it out for yourself.

Details here: Adult Fencing Taster Sessions.
July 21, 2016