Fencing taster sessions coming up in September
The London Region Fencing Novice and Intermediate Championships recently took place in St Benedict's School, Ealing.
There were 40 fencers competing in all three weapons on July 12. Wimbledon's Paweł Żakiewicz won silver in the sabre despite a painful hand injury in an earlier round and in the men's épée, Christopher Micklem won silver and Simon White bronze.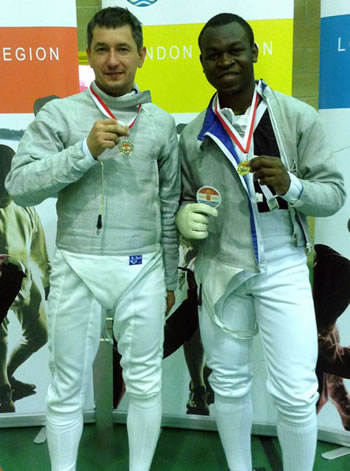 Pictured above: Intermediate Sabre L to R Silver Pawel Zakiewicz, Wimbledon Gold, Daniel Lwanzambi City Fencing
Wimbledon Fencing Club run regular courses for beginners and are running a taster session on Wednesday September 23. Go to Wimbledon Fencing Club's website for or find out more about fencing in London on http://londonregionfencing.org.uk/home/.
July 21, 2015