The Wombles Make a Return to Wimbledon
---
Furry Common residents have positive environmental message to spread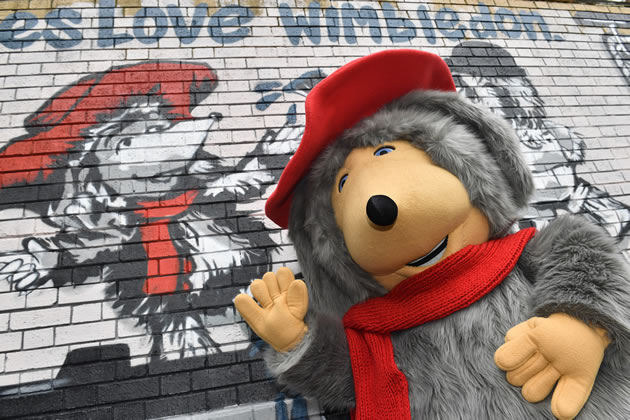 October 26, 2020
New wall art celebrating The Wombles relationship with Wimbledon has been created in a prominent location in Wimbledon Town Centre.
Adjacent to the busy rail and tram lines the 3.5m high and 15m long mural covers graffiti on the wall of a well-used path.

Brought out of hibernation in January, The Wombles can now be seen spreading their message of community environmentalism right in the heart of Wimbledon Town Centre. The long wall art depicts The Wombles painting the wall to cover the unsightly anti-social graffiti. As always, Orinoco has got in a spot of bother as the rest of the team come to the rescue.

The project, supported with funding by South Western Railway, was the brainchild of Love Wimbledon, collaborating with Great Uncle Bulgaria and The Wombles to provide commuters, as well as local residents and visitors, a big welcome to Wimbledon helping to develop positive street art to welcome back The Wombles.

Love Wimbledon, in partnership with The Wombles are bringing joint environmental campaigns including travel smart, reduce / reuse / recycle and Going Green to the town. The first campaign is within the main ticket hall at Wimbledon Station where large display boards have been installed with The Wombles bringing an eco-message to all.

Great Uncle Bulgaria commented, 'We encourage everyone living, working and shopping in Wimbledon to adopt positive environmental behaviours. If we all do our bit, we can make the town the greenest in the country. We hope everyone likes our #WomblesLoveWimbledon message around the town. You'll spot Tobermory, Alderney, Madame Cholet and Orinoco doing their bit to remove graffiti. I will be drinking a nice cup of tea whilst they are hard at work'

Helen Clark Bell, CEO, Love Wimbledon added 'It is good to see our old friends around town again, we've missed them! When people think of Wimbledon, some may think of the tennis, but we know many of us immediately think of 'The Wombles, after all it is their home.'

Mark Youngman, Customer and Communities Improvement Manager, South Western Railway said, 'Our funding can make a real difference to town centres, improving community experiences and cheering up urban areas. It's good to see The Wombles back in Wimbledon and we are sure the commuters passing to and from Waterloo will love it!'

You can find The Wombles , South of the station overlooking the railway tracks (walk down the side of Little Waitrose) behind Tuition House offices or in Wimbledon station foyer.