Town centre comes back to life with the backing of Love Wimbledon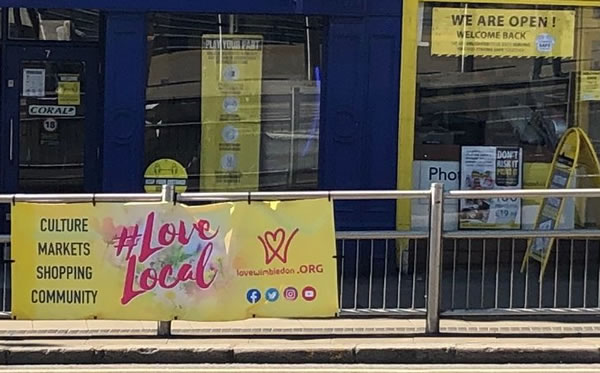 Wimbledon town centre has been coming back to life this week as shops re-open for business, with the backing of Love Wimbledon's #LoveLocal campaign.
Love Wimbledon has been preparing the town centre, to welcome people back to shop safely and responsibly, as well as maintaining Wimbledon as an attractive, vibrant, and well cared-for town to visit.
A deep clean on parts of the town centre takes place every month, and contactless public hand sanitiser stations have recently been installed on The Piazza and outside Wimbledon station.
Love Wimbledon's town ranger Tom has been instrumental in helping businesses as they re-open or prepare to do so, by dishing out funky new floor vinyls to help businesses manage socially-distanced queues, and posters to let peopl know which stores are open and which stores will be opening again soon. He has also resolved nearly 250 street issues in the past month.
Love Wimbledon has also:
Set up

'What's Open' pages

for a one-stop overview of the shops and restaurants open in town
Brightened up the streets with

floral hanging baskets and giant

planters

(kindly donated by the All England Lawn and Tennis Club)
Installed

colourful lamppost and railing banners

Created

vibrant concrete barriers

outside the New Wimbledon Theatre (with help of Firecrackers Works and Merton Council)
Hosted the return of the Monthly Local Market on The Piazza with the next one due on June 27 and 28.
They said: "The last few months have been difficult for many, particularly owners of small, independent businesses in our town. This is the time to #LoveLocal, so we encourage you to pop in and visit these businesses, remembering that this is a greener option than shopping and ordering online!
"Several local businesses have adapted incredibly well to the current pandemic, developing unique ideas to continue to provide you with their products/services via delivery, click and collect, and more (all contactless of course).
"You can also travel into Wimbledon safely, by walking or cycling in, and making use of the 250+ cycle racks available in the town centre."
As you visit your local shops and traders, you may have questions or concerns about your health and safety on the high street. 'Is it safe to pick up an item then put it back down' and 'Do shop staff have to wear masks', could be questions you'd like answered.

If you have queries, officers from Merton Council's Regulatory Service will be taking to Twitter on Monday (June 22) at 4pm to answer some of these questions. To take part, simply tweet your question using #ReopenMerton.
June 19, 2020