Merton and three other boroughs to merge into one Basic Command Unit
The Metropolitan Police have announced radical changes to the structure of policing in the local area.
Police in four boroughs in the area - Merton, Richmond, Wandsworth and Kingston - will be merged into one Basic Command Unit (BCU) in the early stages of a roll out of a new London-wide structure.
The first boroughs to be merged will be Hounslow, Ealing and Hillingdon, with Merton being involved in the second re-structuring at the start of a roll out during the next 12 months in which 32 borough services will be replaced by 12 BCUs.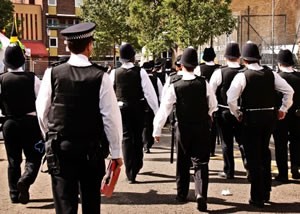 Each BCU will be led by a chief superintendent who will be the BCU Commander. The Met claim that with a BCU, people, buildings and resources will be shared across the borough boundaries meaning greater flexibility in how these are used. It is not known at this stage who the new BCU commander will be or where he or she will be based.
The move is part of a programme by the Met to make make savings of £325m by 2021/22. Police officer numbers are expected to fall to 30,000 by April, and further by 2021.
A statement issued by the Met says: "We need to plan for a future with less, and become more resilient so we can continue to meet our financial and operational challenges, and our current and future policing challenges - terrorism and safeguarding in particular. Without significant changes in how we manage our resources we would be unable to meet these head on.
"As well as saving money and increasing efficiency, we want to invest in other areas of policing which the new model will enable us to do more effectively. Increasing community confidence is a priority and these changes will build on the success of Safer Neighbourhoods, where local officers are visible in each London ward.
"We have met our commitment to put two Dedicated Ward Officers (DWOs) and one PCSO in every London ward. These officers work with local people on local priorities and are not taken away to help with policing elsewhere in London."
BCUs will also bring together the investigation of these crimes and deploy specialist officers and detectives directly to the scene of serious incidents at an earlier stage. The Met says this means they can set the investigation strategy early on and make contact with the victim, reducing the number of different officers they have to deal with.
With calls to 999 and 101 on the rise, the new BCU structure should see more officers responding to emergency calls across borough boundaries to fit with local needs and help those people who need us the most.
But Lib Dem campaigner and Wimbledon resident Paul Kohler is already bringing a court case to stop the closure of Wimbledon police station and 36 others across London. Reacting to the news, he said: ''The Conservatives' decision to cut the police budget means London has lost 2000 officers since 2016, with another 2,500 expected to be lost over the next few years. That means that across Merton we will have lost some 15% of police officers during Sadiq Khan's tenure as Mayor of London.

"Sadiq Khan cannot simply hide behind these foolish and dangerous Tory cuts. He needs to fight harder for the needs of Londoners and embrace a more imaginative approach that maintains police in the heart of our communities, rather than making them increasingly remote".

"Merton residents will be shocked by these proposals that will inevitably suck away key resources from Wimbledon, with its historic low levels of crime.

"Wimbledon is about to be hit by a triple whammy losing its police station, its borough commander and many of its officers. We currently live in one of the safest boroughs in London but crime is already beginning to rise and these dangerous cuts will simply exacerbate that problem."
The BCU model has been tested in two areas since January 2017, bringing together Barking & Dagenham, Redbridge and Havering boroughs; and Camden and Islington boroughs.
Leading the work is Deputy Assistant Commissioner Mark Simmons. He said. "Local policing is at the heart of what the Met does every day, and we will improve it further by offering a service that is more personal and responsive to the needs of Londoners.

"BCUs will allow us to put first victims of crime and those people who need us the most. Our new structure will also give us the resilience and consistency we need across the whole of London, so we can continue to respond to large scale incidents and meet the financial and operational challenges we are facing."
The 12 Basic Command Units (BCUs) are:
Hammersmith and Fulham, Kensington and Chelsea, Westminster,
Kingston, Merton, Richmond, Wandsworth
Bromley, Croydon, Sutton
Bexley, Greenwich, Lewisham
Barking and Dagenham, Havering, Redbridge
Ealing, Hillingdon, Hounslow
Lambeth, Southwark
Enfield, Haringey
Hackney, Tower Hamlets
Camden, Islington
Barnet, Brent, Harrow
Newham, Waltham Forest
What do you think? Why not comment on our forum?
February 12, 2018