Says this only happens rarely and as a last resort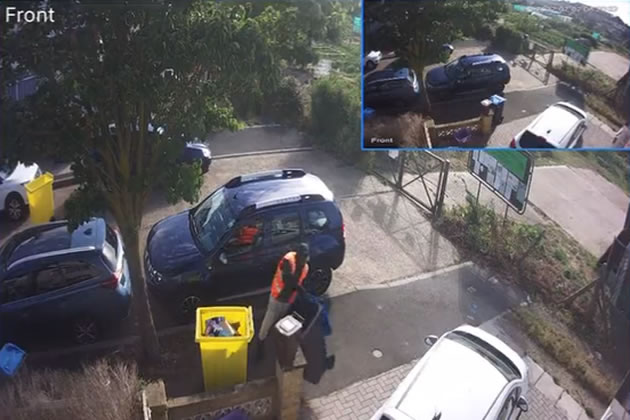 A council binman mixing recyclables. Picture: Twitter/Sarah Mustoe
July 6, 2022
Recycling from roads in Merton borough was sent to the Beddington incinerator last week. The council has said the incidents in Pollards Hill like this are "rare" and only happen as a last resort.
A video posted to Twitter shows a binman dumping food waste and paper recycling in a bin together. This would mean the paper could not be recycled and would be sent to the incinerator which processes 347,422 tonnes of rubbish from four South London boroughs a year.
Sarah, who shared the video, wrote: "Just had my recycling collected three days late, now I could be wrong but if you put food waste in with paper doesn't that prevent the paper being recycled? Your staff have just poured mine and all my neighbours into one large yellow wheelie bin."
Merton Council and Veolia have said in this instance, the waste was not recycled as the bin lorries could not access homes due to Thames Water work. This affected Hadley and Castleton roads.
Community campaigner Mark Gale said two smaller vehicles could have been sent to carry out the collections separately. He said, "The video is very clear showing recycling isn't happening. They do have smaller vehicles which are used on hard to access roads.
"They could send two different smaller vehicles to solve that issue if they wanted to. On this occasion it resulted in sending the whole road's recycling to the incinerator."
A spokesperson for Merton Council said, "We have a duty to clear household waste for all residents in a timely manner and in rare circumstances like this, it sometimes means merging recycling and rubbish collections. This was a last resort that only affected two streets."
While a spokesperson for Veolia said recycling crews made three attempts to collect the bins between Wednesday (29 June) and Friday (1 July). They were unable to access the road with a "split back recycling collection" due to the road works.
The spokesperson said: "After notifying Merton Council, and as a last resort to clear waste for the residents, a narrower vehicle attended on Saturday, 2 July to clear all household recycling and waste. All surrounding roads were unaffected. We will retry making separate collections of recycling and waste in Hadley and Castleton Roads on Wednesday (July 6)."
It comes less than six months after Veolia was given an official warning to improve by Merton Council.

Tara O'Connor - Local Democracy Reporter