Residents condemn approval for 74 flats at council meeting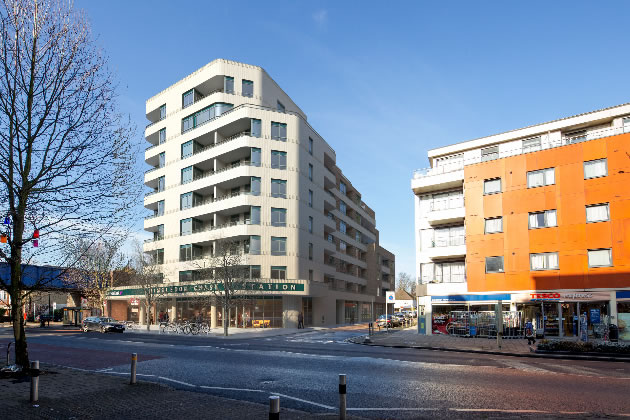 Visualisation of the flats to be built above Wimbledon Chase Station. Picture: CZWG
May 8, 2023
Merton Council has been accused of setting a "dangerous and terrible precedent" after allowing a block of more than 70 flats to be built on top of a train station.
The borough's planning committee approved plans for a nine-storey building which would create a new entrance for Wimbledon Chase station. More than 160 residents objected to the proposals which will see 74 flats built on the site, raising concern that the development would "rob" them of daylight and privacy.
At a meeting on Wednesday 26 April, local resident Daphne said she was speaking on behalf of 150 local residents. She said, "At [around] double the height of the existing five-story parade it is simply too high. It will cast a massive shadow on homes robbing us of daylight and privacy on both sides of the station and will also impact on mental health."
She added that the lack of step-free access to platforms at the station is "completely unacceptable".
Fellow local, Vanessa, who lives on nearby Oxford Road said, "We don't need a landmark high rise to mark Wimbledon Chase train station, it is not a town centre. If this planning committee approves development it will set a dangerous and terrible precedent. You will all be responsible for the destruction of a heritage area, you will rob us of our light, our privacy and the enjoyment of our homes."
The new development will replace the existing Wimbledon Chase station building and include retail space and communal facilities for residents. The application was approved with six votes in favour, three against and one abstention. Planning permission will be valid for the next three years.
After the plans were approved, Adam West, from architects CZWG, said, "The development is a good example of the kind of solution essential to help solve the housing shortage in London. New homes will be built in a highly sustainable location, at the same time significantly enhancing the accessibility to public transport. The higher density here only adds to the mix of accommodation typologies to be found in this part of London. It's a win-win situation."


Tara O'Connor - Local Democracy Reporter