Survey shows more than half of Londoners frustrated by busy journeys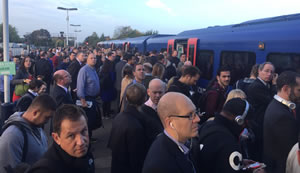 London commuters are left "travelling like cattle" in packed conditions, with overcrowding seen as the biggest problem for public transport in the capital.

A poll of travel gripes found 53 per cent of Londoners are most frustrated by busy journeys.
Another 38 per cent think travel is too hot, and 24 per cent resent high costs, according to research by the London Assembly's transport committee.

The capital's population continues to grow – there are currently 9.1 million people living in the city, with that figure expected to rise to over 10 million by 2035, adding to transport congestion.

Florence Eshalomi, chair of the transport committee, said quality of journeys was just as important as getting Londoners from A to B.

She said: "Our research shows that the transport system is already struggling to cope with the number of people in London today.

"It is not enough to have a network that can take Londoners across this large city. Residents do not deserve to feel as if they are traveling like cattle in packed buses and train carriages.
"Transport for London and the Mayor must bear in mind all the factors that contribute to a good and reliable public transport service for any new, as well as existing, transport projects."

Commuters in the outer boroughs were just as concerned about overcrowding as those in inner London, according to the poll. The picture above is was taken at Wimbledon station.

But younger people were more worried about the cost of travel than older residents – nearly a third of 18-24 year olds said it was their most significant problem, compared to just 23 per cent of 50-64 year olds.

Four per cent of over 65s said price was their biggest complaint – even though all residents aged over 60 are eligible for free travel in London.

When asked what would encourage them to use public transport more frequently, price was the single biggest factor – almost a third of people said they would travel more if it cost less.

Safety was also a significant concern – 13 per cent of residents said they'd be more likely to use public transport if they felt more secure.

Access to a greater range of routes and more reliable service were also big motivators – though a third of people said nothing would change the way they travelled.

A spokesperson for the Mayor said numerous projects were increasing capacity on London's public transport system.

She said: "Sadiq is freezing all TfL fares for four years and has introduced the Hopper bus fare, despite huge Government cuts to TfL. At the same time he is investing record amounts in modernising and increasing capacity on London's Tube network."
By Jessie Matthewson, Local Democracy Reporter
August 22, 2019