New sections of protected cycle lane to Elephant & Castle being created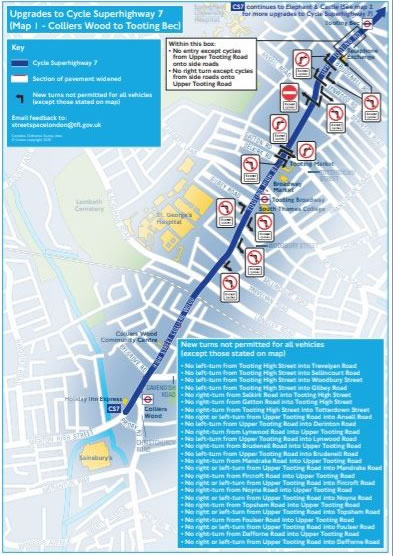 Colliers Wood residents can expect to see some significant changes to roads and cycle routes in the coming weeks as part of temporary upgrades to Cycle Superhighway 7.
Transport for London has said that as the capital emerges from lockdown "we will need to help people to walk and cycle more often, to reduce demand for public and private transport to essential trips only.
"From mid-late July we will begin work on temporarily upgrading Cycle Superhighway 7, as part of our plan to create a cycle corridor to follow the Northern line from Colliers Wood to Elephant & Castle. The first phase of our work will focus on the section from Balham to Colliers Wood."
This 3.7km upgrade of the cycle route (which is celebrating its tenth birthday) will also add new sections of protected cycle lane.
It is hoped it will free up space on the Tube during peak periods.
There is no confirmed end date for construction but a spokesperson said TfL is "working to build this as quickly as possible and should see the first sections opening in the coming weeks."
For more information, visit: https://consultations.tfl.gov.uk/general/f2826d1b/.
By Sian Bayley, Local Democracy Reporter
August 10, 2020