Details of their final two Wimbledon concerts are announced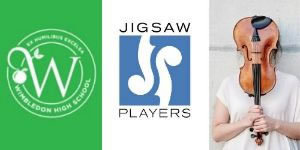 The Wimbledon-based Jigsaw Players complete their 10th anniversary season with two concerts in May - one celebrating their partnership with Wimbledon High School and one celebrating the centenary of three, 100-year-old masterpieces. Details are below:
Tuesday May 7, 7pm

Hear the culmination of this year's inspiring partnership with Wimbledon High School. A true celebration of budding young composers as the Jigsaw Players perform the girls' final A-level compositions, interspersed with other luscious chamber music works.

VENUE: Main Hall, Wimbledon High School
PRICE: FREE

On the programme:
Franz Joseph Haydn Quartet in B flat major, Op.76 No.4 'Sunrise'
i. Allegro con spirito
Judith Weir Bagpiper's String Trio
Anna Kendall Bass Quintet
Antonín Dvořák Terzetto in C major, Op.74
ii. Larghetto & iii. Scherzo: Vivace
Louisa Clogston String Quartet
- interval -
Maurice Ravel Sonata for violin and cello
i. Allegro & ii. Très vif
Miriam Pancheva String Quartet
Richard Bristow String Quartet
Rebecca Clarke Poem for string quartet
Schøyen Sjölin arr. Danish String Quartet Old Rheinlender from Sonndala
Musicians:
Michael Trainor and Tetsuumi Nagata - violins
Jenny Lewisohn - viola
Bartholomew LaFollette - cello

Friday May 10, 8pm

1919 was a vintage year for the viola repertory. Join us in the historical setting of Southside House to celebrate this unique centenary with melodious and stirring viola masterpieces composed exactly 100 years ago by some of the greatest exponents of the instrument.

VENUE: 3-4 Woodhayes Rd, Wimbledon, London SW19 4RJ
PRICE: £15
Seating is limited therefore book now to avoid disappointment!

On the programme:
Rebecca Clarke: Sonata for Viola and Piano
Ernest Bloch: Suite for Viola and Piano
Paul Hindemith: Sonata for Viola and Piano op11 n.4

Musicians will include Jenny Lewisohn, Emmanuella Reiter and Sophia Rahman.
Aprl 26, 2019