A gripping true-life story visits New Wimbledon Theatre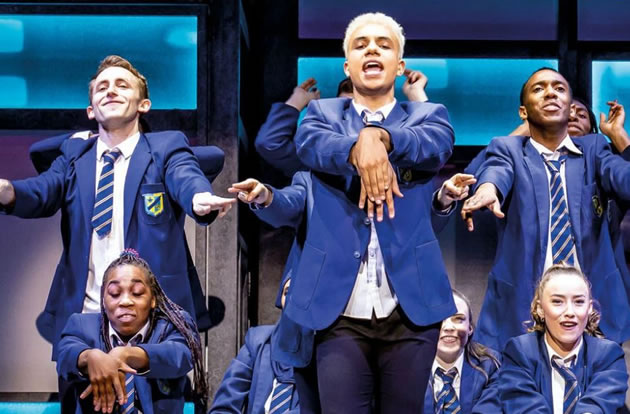 Everybody's Talking About Jamie at New Wimbledon Theatre
There's a great deal of current debate in society relating to gender issues, especially in the Sport world. A colourful and intriguing production such as "Everybody's Talking About Jamie" is therefore very appropriate in order to get us all to think outside the box and to help us to understand and accept the diverse world we live in.
It was very evident that the audience for "Everybody's talking about Jamie", showing this week at New Wimbledon Theatre, was very engaged throughout, such was the evident interest and empathy with the kind and sensitive character of Jamie, played by Adam Taylor. We were transported through this young man's journey to achieve his dreams and an ultimate standing ovation was tribute to this very insightful musical production.
As a Yorkshire woman I also have to add that I was so pleased the cast succeeded in speaking with what sounded like genuine Yorkshire accents, rather than just trying to unsuccessfully to mimic the Yorkshire vowels, as is often the case. This really helped to me absorb myself in the production.
With music by Dan Gillespie Sells and book and lyrics by Tom Macrae, this work echoes the story of Billy Elliot as it's a tale of northern lad made good and following his dreams against all odds to become what he truly wants to be. The production covers many themes such as the search for identity, challenge of perceptions, social inclusivity, discrimination, bullying, friendship, and many more. The story starts with a young and gay Jamie being raised by his single mum on a Sheffield council estate and admitting to his classmates that he aspires to become a drag queen. The journey unfolds……
Jamie's classmates reminded me very much of when I was at school - bored kids with little aspiration. However in Jamie's class the wonderful and intelligent Pritti (Sharan Phull) has aspirations too, and she and Jamie support each other on their journeys to fulfilment. Shane Ritchie's character Hugo/Loco Chanelle is key in Jamie's success and his/her three drag queen companions put on a tremendous show – as indeed did everybody involved this performance.
I felt engrossed by the entire plot – eager to find out what was to come next. There were moments of hysterical laughter, moments of despair and tears of sadness, anger at the way Jamie was treated by those who were jealous and wanted to destroy his dream. A live orchestra helped to stage the magnificent music as we went from one inspiring number to another.
I was particularly drawn to the tone-perfect pitch of Jamie's friend Pritti's voice. Her performance of 'Beautiful' brought tears to my eyes as it was so touchingly delivered. The song list was a long one, but each rendition was a joy to be immersed in. By Act 2 the audience were treated to the lyrics and energy of the theme tune "Everybody's Talking About Jamie" and jigging in their seats. And indeed everybody was talking about Jamie - and his journey from a dull, grey, classroom to the colourful world of the drag queen was unfolding and affecting not just his own life, but the lives of all who knew him.
All in all a gripping performance from start to finish and I'm very grateful this true-life story is now being told across the nation and has made such a success in the West End. It teaches us a lesson that thing's aren't always as they seem. There are people who enter our lives who we think we know, but often we don't. A production such as this helps us all to perhaps to think more deeply about the wonderful and colourful society we need to understand and celebrate.
By Carol Whittaker
April 8, 2022