Police are hunting the owners
Wimbledon police are looking for the owners of some unique jewellery which they have recovered in the borough.
DS Gavin Jackson of Wimbledon CID said: "These items are very identifiable, for example the locket, which has a picture of a small child inside.
"We are hoping someone might recognise these objects. I urge anyone with information to contact us as soon as possible, to help my team with this enquiry."
He asks for the owners to contact Merton's Burglary and Robbery Investigation Team on 0208 649 3223 or 0300 123 1212, quoting reference CRIS 1403222/11.
If you can help the team, you can also give information anonymously via Crimestoppers 0800 555 111.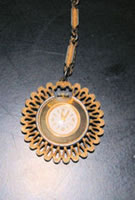 April 8, 2011