Walkway is being transformed into a place to socialise and be inspired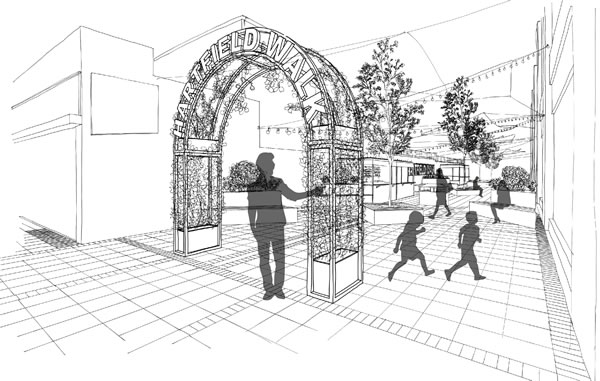 A new 'escape route' is being created in Wimbledon town centre, which will give passers-by a chance to meet, sit and grab a bite to eat while being inspired to make a difference to air pollution and climate change.
Hartfield Walk is being created by Love Wimbledon to improve the walkway area between Blacks and Robert Dyas on The Broadway, leading to the Hartfield Road car park.
Wimbledon-based creative business Firecracker Works is helping transform the underused area into a space for the local community, which Love Wimbledon says will provide a "sense of escapism through an amalgamation of planting, seating, market kiosks, new lighting, environmental games and art.
"As well as presenting a place to sit and read a book in the afternoon sunshine, grab a bite for lunch or meet and connect with friends and family, Hartfield Walk aims to be a space which educates, informs and engages the local community. Through references to combating air pollution and climate change, each component has been carefully considered to inspire local people of all ages to make a difference."
Love Wimbledon has secured £120,000 in funding from Merton Council for the project, which is planned for completion at the end of March. The final date depends on the weather and the situation with the Covid lockdown. Off-site construction work will take place in February.
There will be four food kiosks in the new Hartfield Walk, made of "ethically-sourced" materials. The plan for the project is pictured below.
Anisha Thakur from Love Wimbledon added: "There are lots of other exciting components to the change, murals with environmental messaging, new seating and lots of planting amongst the environmental games."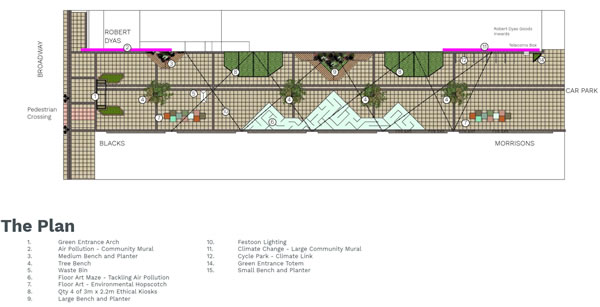 January 29, 2021