Love Wimbledon claims starting project early helps businesses after lockdown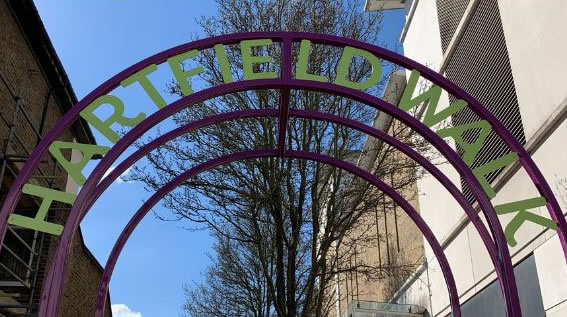 The four street food kiosks in Love Wimbledon's new Hartfield Walk scheme, have been installed ahead of planning permission, with the application attracting a number of critics to the environmental walkway scheme.
Hartfield Walk has been created by Love Wimbledon to improve the walkway area between Blacks and Robert Dyas on The Broadway, leading to the Hartfield Road car park.
Wimbledon-based creative business Firecracker Works has transformed the area into a space for the local community, after Love Wimbledon secured £120,000 in funding after bidding for cash from Merton Council's Community Infastructure Levy (CIL).
While most of the project is deemed 'public realm works' which do not require planning permission, the four market kiosks do need planning permission and Love Wimbledon applied for planning approval on February 23.
However, although the plans have yet to go before Merton Council's planning commitee and were open to public comment until April 14, the kiosks have already been installed as a central part of the new scheme.
Love Wimbledon said it took the decision to install the kiosks ahead of planning permission to help non-essential retail businesses when they re-opened as part of lockdown easing on April 12.
In an FAQ on their website, they state: "We took the decision to continue with the project as we did not wish to add to any difficulties for businesses – rather add a new outdoor space for people to enjoy when they do return. All feedback received from the planning application will be carefully considered as we understand the process is out of sync.
"Town centres have been impacted significantly by Covid and need all the help they can get. Government guidance has been fast changing to enable high streets to reactivate themselves to attract visitors. A new extension supported a series of measures to help hospitality businesses in particular recover. These include:
Greater flexibility for land to be used for temporary events, such as markets.
Planning freedoms to allow outdoor markets, marquees, pop-up car-boot sales or summer fairs without the need of a planning application.

"Wimbledon, like many other town centres, has been hit hard by closures. We can expect more. The fund was applied for as shops and restaurants were going out of business to not only activate a dead space but support local business, and in particular local independent start-up businesses."
But critics of the scheme, which Love Wimbledon says offers extra seating, plants and kiosks which run without noisy generators, included the Friends of Wimbledon Town Centre, Merton Cycling Campaign, the Wimbledon Society and Merton Tree Warden group.
The Friends of Wimbledon Town Centre said while they welcomed the "positive features" of planters and planting, it felt it would have had a better visual appeal with more public consultation.
The Wimbledon Society felt the alleyway was visually more appealing, but criticised Love Wimbledon for starting on the work without planning permisson. "This sets a bad precedent for others", they fed back to the council.
It urged the council to refuse planning permission, saying the plans have "numerous ill-thought aspects".
Jane Plant, on behalf of Tree Warden Group Merton said the works would "damage rather than enhance the town centre environment". They claimed the four existing pear trees would suffer from being encased in wooden planters. "This scheme is without merit," she added.
While Merton Cycling Campaign criticised the project for removing ten Sheffield bike stands, Love Wimbleon says in their FAQ that the cycle parking has been replaced by new "family-friendly" bike racks, opposite the entrance to Morrisons. They claim the design and materials of these makes them stronger and more secure, allowing bikes to be secured at two separate points. They are also located in front of CCTV cameras, helping to prevent the incidence of bike thefts.
Love Wimbledon also claims the planter and seat structures do not go to the ground so all rainwater and runoff will still reach the roots of the tree, as before. The iron protective guards around the trees were already in place.
It says the scheme was discussed at the Wimbledon Community Forum in December, and has been in the public domain for several months, with Merton Council approving the CIL funding in September 2020.
In addition, Love Wimbledon says there are over 50 species of plants introduced in this area that previously had no planting at all, 50% are drought-tolerant. It has published a list of the plants on this link.
The earliest the scheme will be discussed by Merton's planning committee is May 13, as the application does not appear on the agenda for the next meeting, which takes place on Thursday (April 29).
April 25, 2021