Reports of vehicle driving the wrong way down Hartfield Road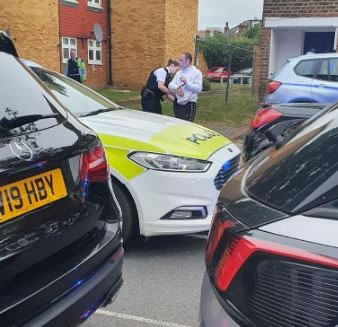 Police in Hartfield Road, Wimbledon
Two men were arrested after a police pursuit saw a vehicle speed around Wimbledon town centre and then down the wrong side of Hartfield Road.
At around 8.15 pm on Tuesday (June 30) officers indicated for a vehicle to stop in Wimbledon.
The car failed to stop which lead to the dramatic police pursuit, with reports of around 15 police cars in attendance. The car was seen speeding across Wimbledon Common onto Cannizaro Road and heading towards Wimbledon Village earlier on in the chase.
Police dogs and a helicopter were also used after the two suspects reportedly fled the vehicle in an attempt to escape police.
A spokesperson for Met Police said: "The pursuit ended in Hartfield Road at around 8.30 pm. Two males were arrested for offences including dangerous driving; affray and possession of an offensive weapon. Enquiries into the circumstances continue."
July 3, 2020