Flag Lowered To Half Mast At Morden Civic Centre
---
Book of Condolence opened after Manchester attack
The Union flag outside Morden Civic Centre has been lowered to half mast in memory of those who have died as a result of the Manchester attack last night.
A book of condolence has also been opened at the entrance to the Civic Centre, which all are welcome to sign.
Mayor of Merton, Councillor Marsie Skeete, will send the messages of support to Manchester City Council as a token of respect from the people of Merton to the people of Manchester.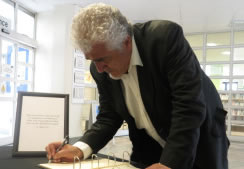 Leader of Merton Council, Councillor Stephen Alambritis, signing the book of condolence today.
May 23, 2017