A Guide For Younger Drivers
---
A Letter to the Editor...
Can I please draw your readers' attention to an excellent new publication?
The safety of younger drivers is of concern to us all, and most particularly to parents. I am pleased to say that there is now a new Good Egg Guide raising awareness of the care that should be taken by new drivers to ensure they keep safe and sound.
This is especially important during the festive season.
Yours sincerely,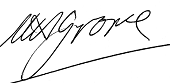 Cllr Maurice Groves
Executive Chairman, London Road Safety Council
Lower Morden Ward Councillor

December 20, 2012