Councillor Mary Curtin joins in the sunrise performance on Wimbledon Common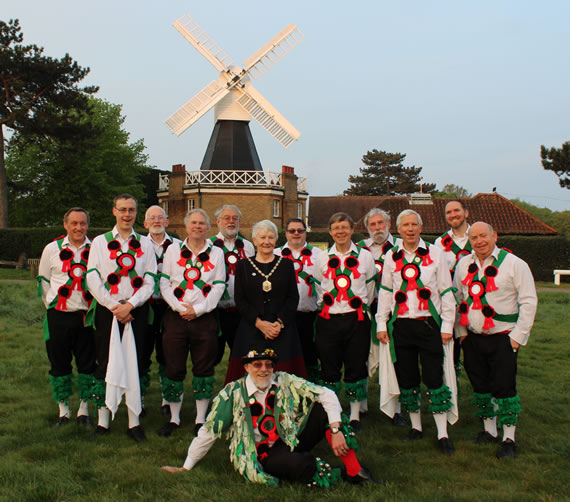 Mayor of Merton, Councillor Mary Curtin, stole the show after joining in Greensleeves Morris Men's sunrise performance of traditional dances at Wimbledon Windmill to celebrate May 1 and the start of summer.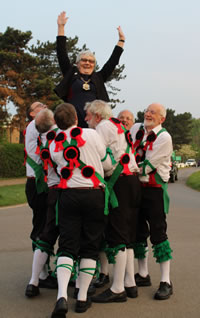 Braving the early morning chill to join friends and other early risers on Wimbledon Common, Councillor Curtin gamely stepped forward during the dance "Brighton Camp" to be lifted by the Greensleeves dancers above the assembled crowd as the performance reached its finale.
With the 5.30am break of dawn performance over, the Mayor then joined Greensleeves for a full English breakfast followed by traditional May morning singing at Wimbledon Squash and Badminton Club before heading off to a day of official engagements.
"This has been a great morning, I thoroughly enjoyed it. I wanted to come out and dance with Greensleeves," commented Councillor Curtin.
"I like the tradition; the different age groups involved is impressive, and the dancing is of a high standard."
Performed each year, Greensleeves' May 1 sunrise Morris dancing event is one of Wimbledon's lesser known traditions.
"Our dance at the break of dawn is to celebrate May Day and the start of our summer dancing season," explained Dave Legg, Squire (leader) of Greensleeves Morris Men.
"It's been a really good morning; we always look forward to this event. The spectators were in good spirit in spite of the early start.
"The club is in good heart and we are looking forward to a successful summer dancing season."
Founded in 1926, Greensleeves is London's longest established Morris dancing club and has been based in Wimbledon SW19 for the past 37 years.
Details of Greensleeves summer season dancing programme are listed on the club's website at www greensleevesmorris.org.
For further information also please contact Greensleeves Secretary (known as the Bagman) David Cooling on 07500993993 or bagman@greensleevesmorris.org.uk
May 7, 2019